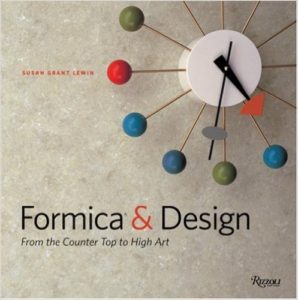 Let's play a game!
What comes to mind when you hear the word: Formica?
Kitchen counter maybe?  Table top?  1950's?  Well, think again!
I found a book on my shelf chock full of nuggets about everyone's favorite décor material, Formica & Design: From the Counter Top to High Art, edited by Susan Grant Lewin.  Ok, well it was everyone's favorite, for quite a while!  I've gleaned a few tidbits for you…
1. FORMICA IS OLDER THAN YOU THINK
In 1910, engineers and friends Herbert A. Faber and Daniel J. O'Conor began working on a plastic laminate sheet product at Westinghouse Electric & Manufacturing Company—O'Conor's name is on the Westinghouse patent.  To their disappointment their employer lost interest in the product.  But Faber and O'Conor had been talking for years about coming up with a product that would change the world, and they saw great potential in plastic laminate.
So, in 1913, the pair left Westinghouse to form their own company focusing specifically on laminate products.
2. IT WAS FIRST USED AS AN INSULATOR
The Formica Insulation Company's initial product line didn't have anything to do with décor.  It consisted of electrical parts (for insulation), parts for electronics such as radios, and mechanical parts for things like automobiles and aircraft pulleys.  The name comes from the mineral mica, the sparkly stuff in granite that cleaves in sheets.  Mica had been the go-to insulation for years, but was becoming more and more expensive.
3. THEY DIDN'T MAKE FLAT SHEETS AT FIRST…BUT THEY DID CREATE DRAMA
It took a year in business before they could buy a press to make sheets!  They sourced resin from the Bakelite Company, whose founder Leo Baekeland, is credited with developing the first totally synthetic plastic.  And, one of their top customers was…Westinghouse.  Do I sense trouble brewing?
Yes.  In 1914 Westinghouse and Bakelite dropped a bomb on Formica: Westinghouse was pursuing the laminate business after all, and Bakelite resin would no longer be available to Formica. Ever resourceful, Formica found another resin vendor, but starting in 1919 Westinghouse sued them 3 times. The little guy won out though!  The last suit actually made it to the Supreme Court, and Chief Justice William Howard Taft ruled in their favor.
Then Baekeland started suing customers and vendors of Formica!  But in an interesting twist, Formica business associates, Sam and Adolph Karpen bought controlling interest the company that owned Bakelite.  Not only did their legal troubles evaporate, but Formica was again able to use Bakelite resin in their products.  Can you say karma?
4. LIKE CARS, FORMICA CAME IN ONE COLOR: BLACK
It wasn't until the 1920's when they began selling decorative pieces and trims to vending machine and soda fountain companies, and diners,  that they branched out into color.  In 1927 Formica received the patents for a laminate printing process that produced a wood grain look.  They also switched from flat presses to gravure cylinder presses allowing for continuous pattern.  Thus begins Formica's colorful, patterned journey into our homes!
5. THE FORMICA HOUSE?
By the early 1960s, Formica was a staple in the American home.  Fittingly they participated in the 1964 World's Fair in New York City by building an entire house made of Formica!  This bold statement marked the company's intent to move into architectural design.  Can you imagine living in an all-Formica house?
AND…BUSINESS WAS DONE DIFFERENTLY 100 YEARS AGO…
In 1914, at just one year old, Formica was ready to expand.  They needed a new press, but couldn't buy it outright.  The Boomer & Boschert Press Company sold them a $6,000 machine for a small down payment, and a "pay when you can" agreement.  According to the dollartimes.com calculator, one dollar in 1914 is equivalent to $23.65 in 2016 dollars!  That means the press would today sell for about $141,900!  Pay when you can, indeed!
It seems to me the boys at Formica were well-thought of… other businesses wanted to see them succeed.
The president of neighboring business, Hall Safe & Lock, must have believed in the power of positive thinking.  He had one of his safes inscribed in the classic gold lettering, "The Formica Insulation Company," and delivered to Formica's new site.  When Faber and O'Conor questioned the delivery as they had no need of a safe, they were told by Hall's president that he intended it as a morale booster: "You have to take it.  Someday you'll be able to pay for it, and that'll be soon enough for us!"  He was right of course! (Holt & Lewin, 1991)
I can't imagine either of these scenarios playing out today!
Who knew Formica had such a colorful history?  No pun intended…
People feel strongly about Formica…so go on, tell us how you feel!   Share your Formica memories in the comments, and over on Facebook!
SOURCE:
Lewin, Susan Grant. 1991. Formica & Design: From the Counter Top to High Art. New York, NY. Rizzoli.