Recently one night after work I headed down to the Governor Henry Lippitt House Museum in Providence, RI for Mottos, Messages and Gem Lore in Victorian Jewelry. The event was produced jointly by Preserve Rhode Island, who owns the Lippitt House, and Historic New England who gave the presentation.
I debated whether I should brave the rush hour traffic, and worried about the weather. In the end I was really intrigued by the opportunity to spend time in what looked to be an amazing Victorian mansion and learn more about the secret language of adornment from the era. Was I ever glad I went— I have so much to share that this will be a two-part post!
As I stepped through the front door the time machine dialed back to 1865; you could practically hear the swish of ladies skirts…and where is the butler? There was so much period detail intact both architecturally and decoratively. This is likely due to the combined rarities of the Lippitt family remaining in the home until 1981, and their appreciation of its history over the urge to modernize. The house was passed directly from the family to Preserve Rhode Island.
I love when I learn about something in a book or classroom, and then see it in real life. When I walked into the dining room I thought "ahh…Death in the Dining Room!" (I might have said it out loud…not sure) Victorians had a penchant for decorating their dining space with images of what they were about to eat. More than that, images of how the food got to the table. We are used to a still life of fruit or something innocuous like that, but High Victorian design demanded not only implements of the hunt, but the victims of the hunt be on display. The Lippitt dining room is true to form in its buffet and artwork. As Kenneth L. Ames says in his book, Death in the Dining Room & Other Tales of Victorian Culture:
"…this environment provides access to a side of Victorian culture not usually explored in studies of domestic life, a side our culture finds problematic and disturbing…this environment and the furnishings designed for it complicate our comprehension of Victorian life. Perhaps more than any others, they force us to ponder the ways Victorians are not like us." (Ames, 1992)
I am always fascinated by the overall style of period homes. Whether it is Colonial or High Victorian like Lippitt House, I like to take in the feel of the space and consider the thought behind the work that went into the design and building. And of course imagine living in the space!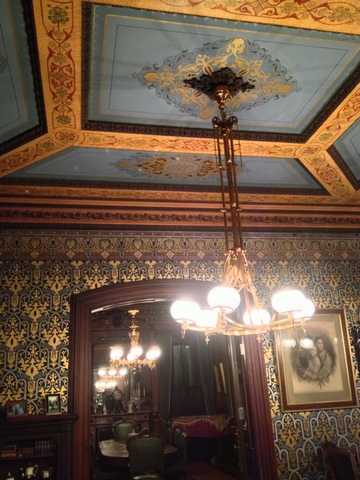 The amount of hand-worked detail in this house is breathtaking! It may not be something you want to live with—you don't see anyone on HGTV doing a makeover in this style—but with my eclectic style I am always inspired by visiting house museums. And as Ames said, it is a way to appreciate just how much past generations "are not like us."
What is your favorite period style, and what appeals to you about it? Please share in the comments below!
SOURCE:
Ames, Kenneth L. Death in the Dining Room & Other Tales of Victorian Culture. Philadelphia, PA: Temple University Press, 1992.