Welcome to the next edition of My Cinema Fix!  We'll get a dose of history (and possibly a laugh or two) via the sights, sounds and script from one of my all-time favorite movies: Gold Diggers of 1933!  You'd never guess from the title that this musical has a serious theme.  It's probably one of the silliest serious movies out there—and I love it!
THE CAST AND THE STORY
This is a film of its time: The Great Depression, which is not at all funny.  The writers use this underlying theme as justification for the antics of their characters.  The film's plot is lifted from a popular 1919 Broadway play, called The Gold Diggers.  It pits a group of showgirls against a stodgy, upper-crust Boston Brahmin-type, and his lawyer.  The action centers around two themes: money and how to get it, and love.  What's a musical without a love story, right?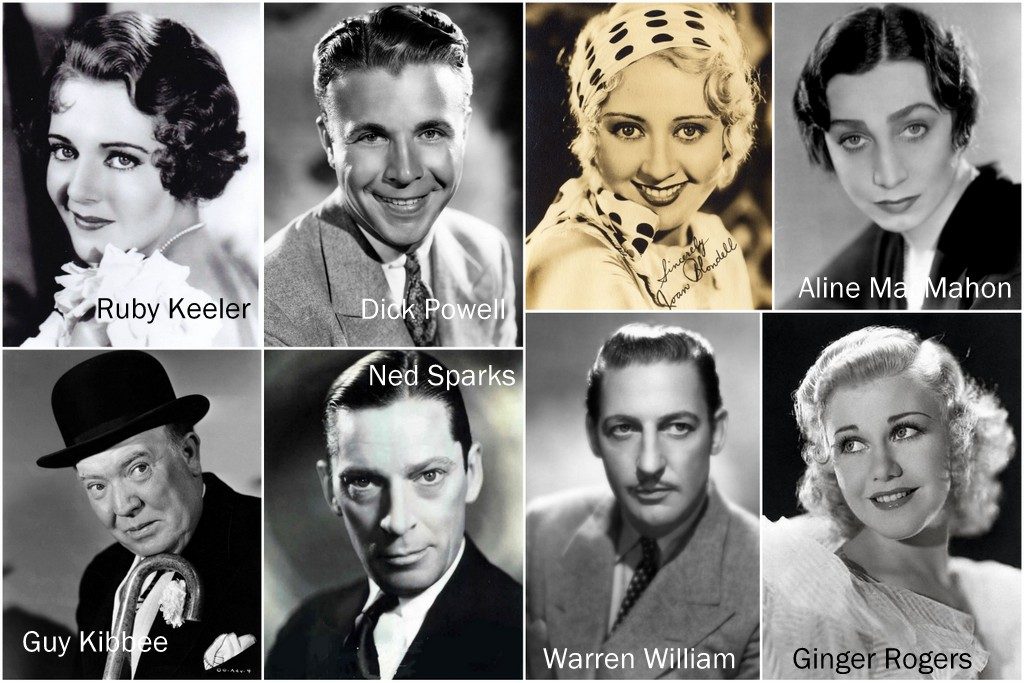 The ensemble cast was stellar, and though you may not recognize most of the names, they were very popular in their day.  The young lovers are played by Dick Powell (Brad) and Ruby Keeler (Polly).  Keeler was known for her tap dancing, and being married to Al Jolson.  Powell enjoyed a long acting career, and became a producer/director in both movies and television.
Joan Blondell plays the important role of Carol, one of Polly's roommates who intervenes on her behalf when Brad's brother,  J. Lawrence, tries to break them up. She too had an extensive career in film and television.  You may remember her as Vi, the diner waitress who councils Frenchie in the movie Grease, one of her final roles.  Incidentally, she was also married to Dick Powell!  Aline MacMahon is Trixie Lorraine, the comedienne of the group, and Polly's other roommate. Much of the action really focuses on these two, as they work over J. Lawrence and his lawyer-friend Faneuil "Fanny" Peabody.  These characters are played by Warren William and Guy Kibbee.
If you are wondering exactly how much I love this film, know this: I named one of my cars Ruby (as in Keeler), and one of my cats is Trixie Lorraine!
Our Cinema Fix opens on a musical production to "We're in the Money" featuring none other than Ginger Rogers!  It's pure irony, as the number is interrupted by debt collectors who close the show before it even opens.  Rogers performs a verse of the song in pig latin—a bit the film is known for, and was only added when choreographer Busby Berkeley heard Rogers goofing around between takes.  Check out this clip:
Rogers' character, Faye, plays a minor role as a foil to Trixie Lorraine's attempts to snag Fanny.
I call this movie silly, mainly because of the romantic thread in the story—so much true love in such a short period of time!  It's great fun of course, but there are serious moments too, where the conditions of the time are addressed head on.  The chaos at the theatre segues to six months later, when the girls find themselves "borrowing" milk for breakfast, and avoiding their landlords.  They hear Barney Hopkins (played by Ned Sparks) is putting on a new show, and they spring into action!  Though they all look well-dressed to me, they only have one nice dress between them, and pick one person to wear it and represent them to ask Barney for work.  Carol wins the draw and brings the impresario to their apartment to discuss his plans. This early scene illustrates the desperation of the time (and some major ACTING!):
FASHION AND SET HELP TELL THE STORY
There is a marked difference to the look of the film, in both the girls' apartment set and their attire, depending on their financial situation.  When they are poor, their apartment has a dark, ornate Victorian feel to it.  When they're "in the money," they are living well in a bright, light, Art Deco flat.  There are still a few traditional furniture pieces in the mix—you wouldn't get rid of all your furniture, right?—but the place feels upbeat and vibrant.  Out with the old, in with the new!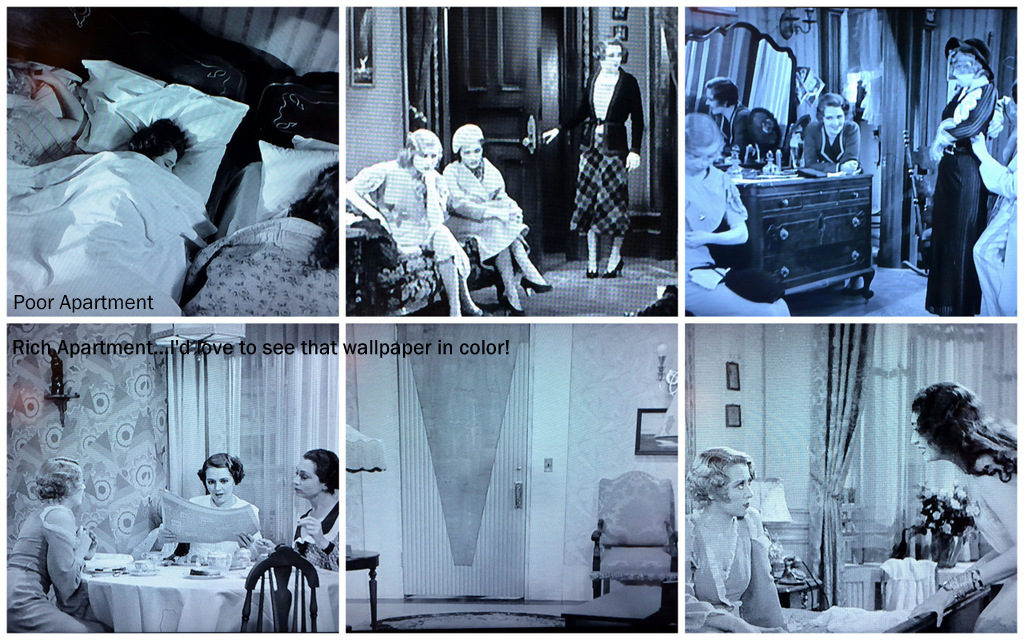 Same goes with the wardrobe.  Compared to how we dress today they look pretty fancy, even when they're broke, but… When they're working, it's sequins, rhinestones and total glamour!
Here's a sampling of the "poor clothes."  The "good" dress is second from left, and middle after the switch:

And clearly, the "rich clothes"–I adore the gown worn by Joan Blondell: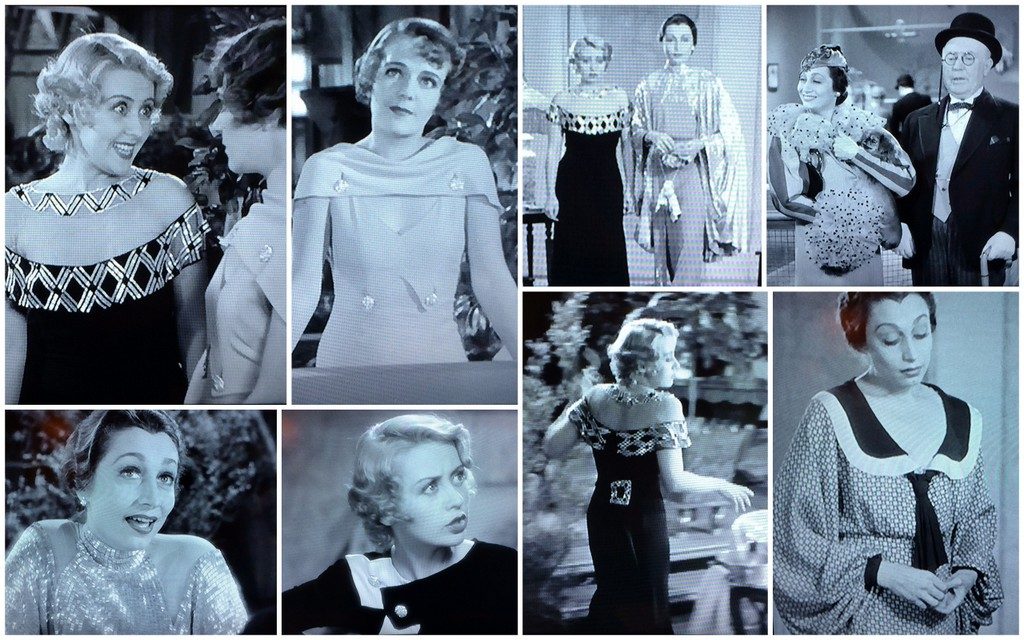 MOMENTS FROM THE SCRIPT
Part of why this movie feels silly to me I'm sure, is the style.  They just did it differently in the 1930's…way different!  The way they delivered lines, the way they sang songs; if you did it casually and true to real life, well, that just wasn't performing!  But again, I love it!  It's part of the charm of the era.
Nerd.
I'm fascinated by the everyday details of life.  They remind me how much has changed over the years.
For example, Carol slicing bread for breakfast. It looks like Wonder Bread, before it came sliced.  Have you heard the saying, "It's the greatest thing since sliced bread?"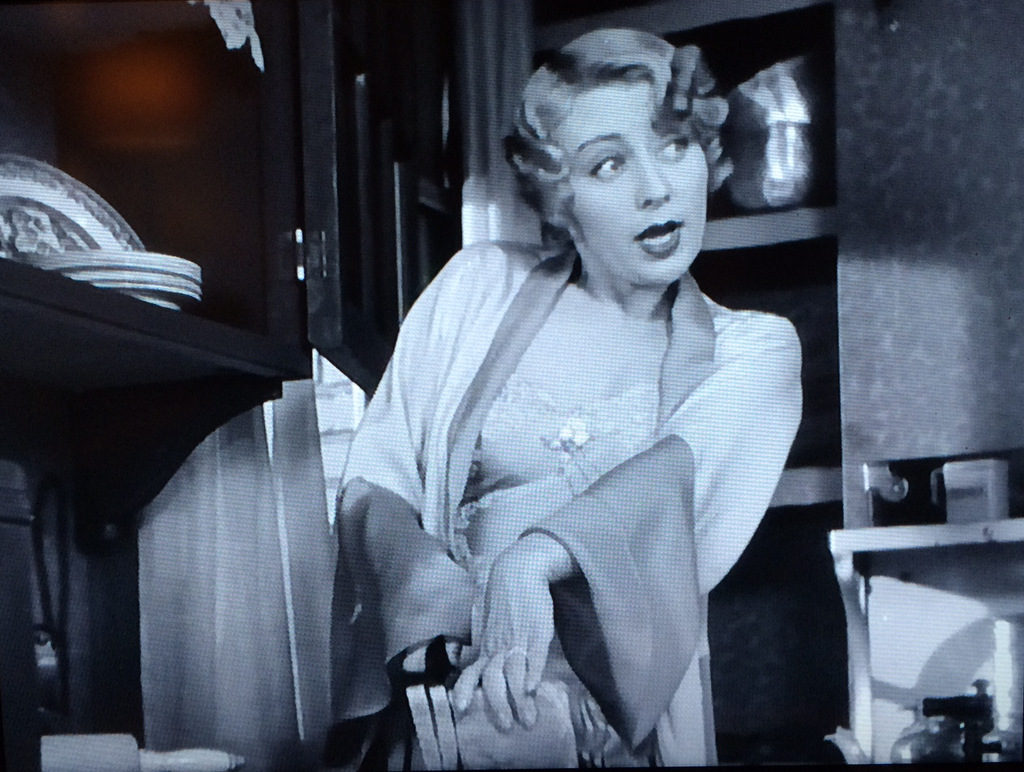 Who gets to wear the fancy dress to visit Barney?  The girls quickly choose a cab company each, run to the window, and the girl who chose the cab to come around the corner first wins.  There is something so innocent and sweet about this scene to me.  These are supposedly hard-boiled showbiz dames, but even so, in that era you found simple ways to entertain yourself, and made the most of every opportunity.

As Carol sets off to find Barney, Polly sends out the word to fellow chorus girls and friends.  No texting, emailing or even speed dialing.  Nope.  She uses the giant phone book hanging on the wall by the phone, looks up a number, shouts it into the phone to an operator "Havermeier 4 -8…" and it's not even a seven or ten-digit number like we're used to!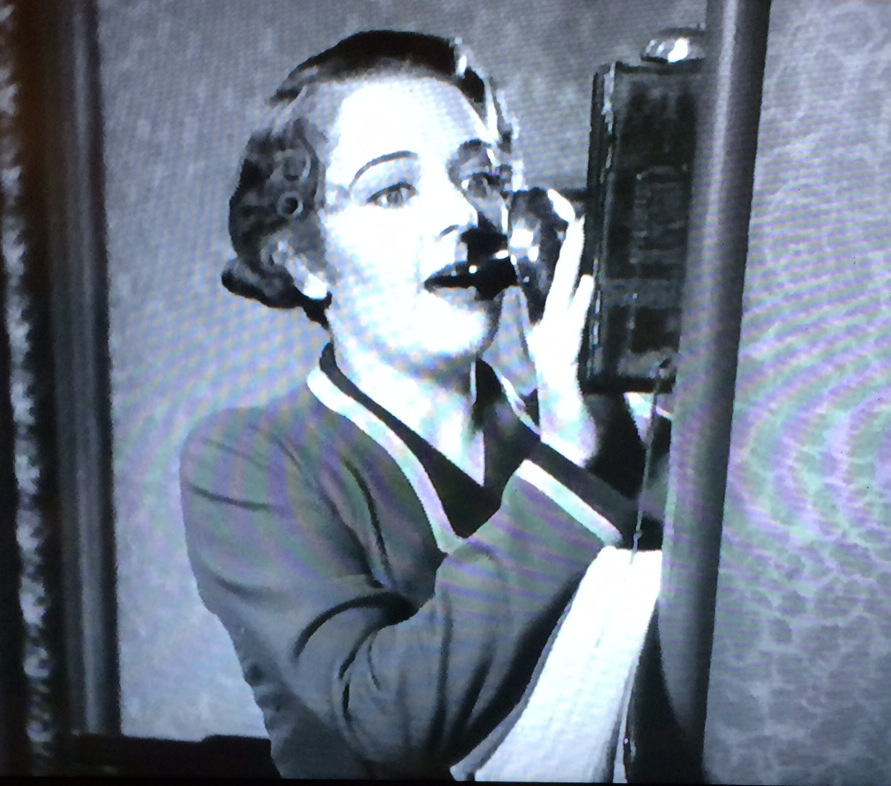 One of the schemes Trixie and Carol devise to harass J. Lawrence and Fanny, involves the delivery of very expensive hats, one for each of them, C.O.D.:
It may seem like $75 is not too much of a stretch for these well-to-do gentlemen, but remember, it's 1933.  Today these hats would cost approximately $1,400 each. The delivery boy's $5 "keep the change" amounts to $92 to put toward his yacht.  How's that for perspective?
PRODUCTION NUMBERS
Busby Berkeley typically had three or four big production numbers in his movies of this era.  They are mostly very surreal in nature, and don't necessarily have a lot to do with the plot other than being part of the show-within-the-show.  Gold Diggers of 1933 opens with the scene-setting "We're in the Money."
The next big number takes place on Opening Night of the new show.  "Pettin' in the Park" is a sex-charged romp that straight up defied the Hays Production Code of 1930.  Berkeley held nothing back!  The number is about making out.  It starts out with Brad and Polly singing to each other, and then pans around to show a wide variety of couples: ethnicity, ages, and even a small slight man and a much larger woman.  Rather forward thinking for the day.
Things start getting weird though…when Polly's character refuses Brad's character's advances, she is forced to use a roller skate rental service to help her get home, and is harassed by a slew of police officers.  So much for forward thinking.  And then…there's a little person.
It's a young Billy Barty!  I remember him from 1970s TV; particularly the kids' show Sigmund and the Sea Monsters, but also from guest appearances on shows like The Love Boat and Little House on the Prairie.  Barty was nine years-old in this movie, playing a baby.  This "baby" was by turns a trouble-maker and cupid!
This number is risqué almost to the point of shocking!  Here's why:

The skies open and the chorus (decked in sheer dresses that are now wet) run for the shelter of a cabana holding their skirts over their heads.  After lowering the shade, they undress.  Meanwhile here comes the "baby" attempting to reveal their naked forms by raising the shade!  Just in time, they are fully dressed again, this time wearing metal corsets to protect them from their suitors.  Never mind though, the "baby" hands Brad a can opener, and he proceeds to cut Polly out of her corset to end the number!  Forward thinking goes completely out the window.
The Shadow Waltz definitely qualifies as surreal, featuring electrified neon violins.  You can see the cords in the film.  Apparently the electricity wasn't combining well with the metal sequins on the dancers' gowns, and they got shocked, repeatedly!  I don't think a studio could get away with that today!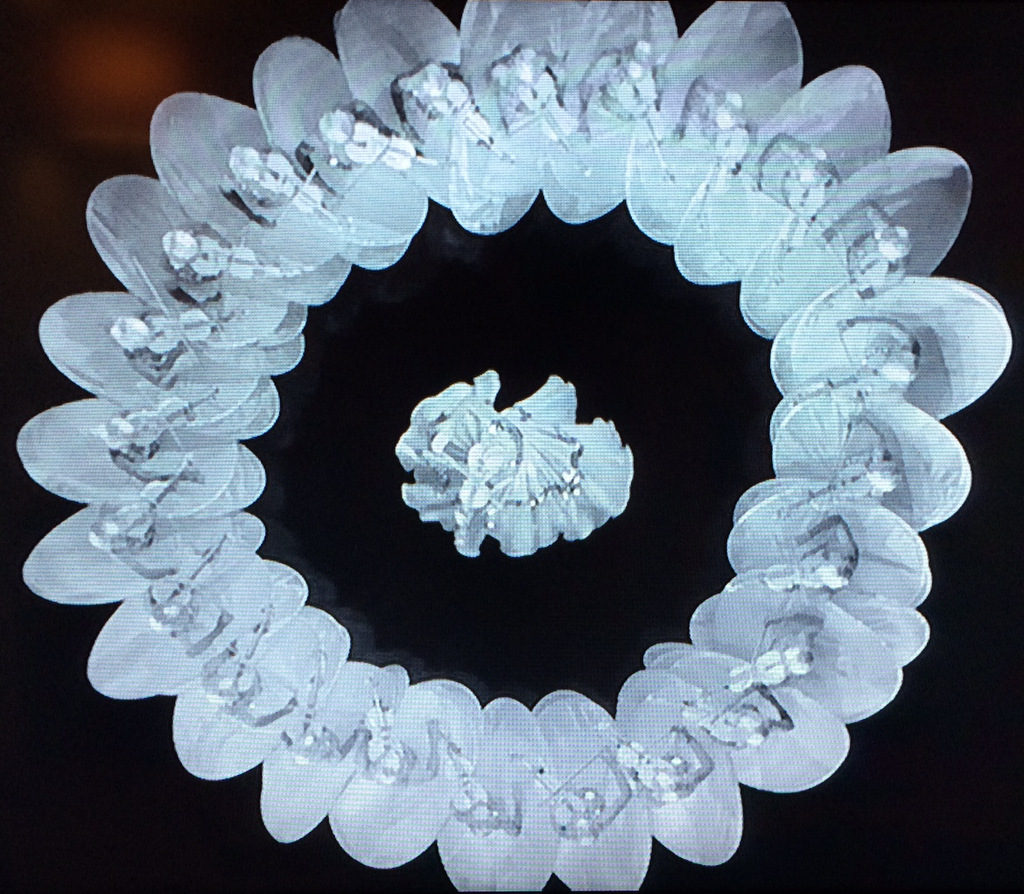 A famous Berkeley Topshot from Shadow Waltz.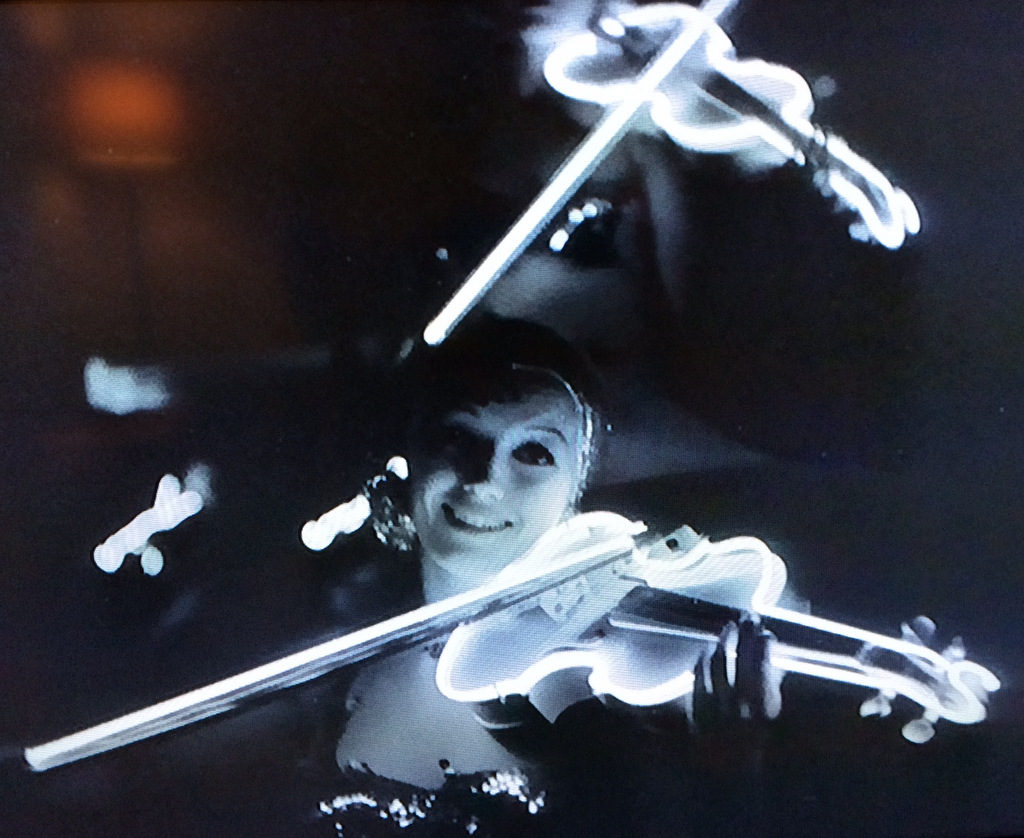 Smile through it darling!

Tying back to the serious side of the film, the finale is "Remember My Forgotten Man."  There was concern for the number of World War I veterans queuing up at bread lines and soup kitchens.  Gold Diggers of 1933 was filmed around the time of the Bonus Army protest in Washington DC. In June 1932, approximately 20,000 vets camped out on the Mall for six weeks, while lobbying Congress for early payment of bonus pensions that were promised to be paid in 1945.  They felt that the economic hardships they were enduring entitled them to the funds by the end of the current year.  The government feared rioting from the group, and decided to send in troops, led by Douglas McArthur and Dwight Eisenhower.  Amazing stuff!  Public opinion of President Hoover plummeted.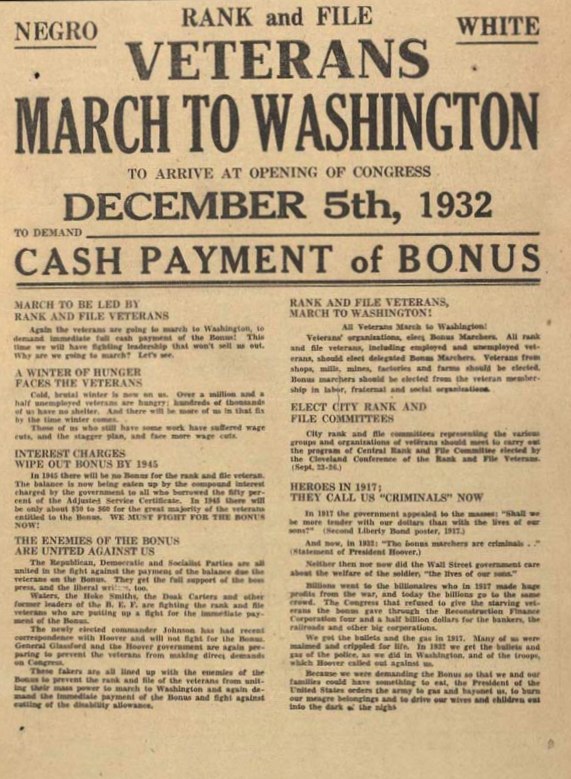 Berkeley, himself a World War I vet, was moved by this, and created a tribute to these men.
See how much history you can absorb just by watching an old film?!  Movies have always been a way to escape the cares of the world, if only for a little while—and they sure needed that during the Great Depression.  Share your thoughts below, or over on Facebook—and look for more great stuff from Gold Diggers of 1933 there too!
SOURCES:
The Bonus Army March, https://www.loc.gov/exhibits/treasures/trm203.html, accessed September 19, 2016.
United States Department of Labor, Bureau of Labor Statistics, CPI Inflation Calculator, http://www.bls.gov/data/inflation_calculator.htm, accessed September 19, 2016.
SIDE NOTE: Reading his IMDb biography I noticed that Powell's two brothers lived to be 87 and 90, while he passed away at the age of 59.  According to IMDb, "He was yet another casualty of the 1956 film The Conqueror… filmed near a nuclear test site in Utah. Many of the people involved with the film, including Powell, who directed, eventually died of cancer, either caused by, or exacerbated by, working on it. Others included actors John Wayne, Susan Hayward, Ted de Corsia, and Agnes Moorehead."  This is a sad illustration of the mentality of the time, as I mentioned in the first Cinema Fix.  Was it simple ignorance regarding nuclear fallout and its lingering effects?  Or was there a push to make people believe the testing being done was safe?  It doesn't seem like they should have been allowed to film anywhere near such a site.  This breaks my heart!