A couple of weeks ago I performed my civic duty, making my way to the Suffolk Superior Courthouse, skipping and hopping all the way—"Hooray! It's time for jury duty!" Yeah right.
Like most people the cursing began when I got the summons in the mail: "Oh man! I don't have time for this! What a pain!" It continued as I arrived at the courthouse and joined the ant-like line of fellow jurors, winding our way through the building.
It's amazing how silent a room of 300 cranky people can be.
I was annoyed. But lo and behold…it didn't take long for the unexpected to begin…an attitude adjustment.
Needless to say I brought my own reading material—Outlander, which I am reading for the third time as I watch the show, to compare how the translation to screen differs from the book—but I can never have too much to read! The courthouse obliged with a museum display at one end of the room documenting important cases that took place in Massachusetts.
So let's start our countdown David Letterman-style:
The Number 3 Thing I Learned at Jury Duty…
Some notorious cases took place in Massachusetts:
Lizzie Borden—she killed her parents with an ax back in 1893. But did you know that in spite of plenty of evidence proving she did it, she was acquitted? That's right. The all-male jury just couldn't believe a woman would possibly do such a thing.
Sacco & Vanzetti—These Italian immigrants were tried for robbing a shoe factory and killing two employees. In spite of little evidence to show their guilt, they were convicted—due to prejudice. They were immigrants, they were Italian, and they were anarchists. Not popular things to be in the 1920s. In the end these men were persecuted for their ethnicity and ideology.
(Most people think they know what anarchy is, but you might be surprised to learn more. Some schools of thought are actually against violence.)
For a contemporary account of the case, see The Atlantic from March 1927.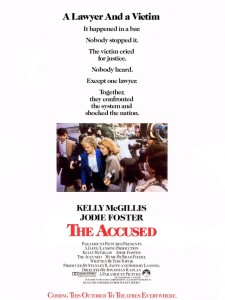 Big Dan's Case—You may remember the 1988 Jodie Foster movie, The Accused. This is the case the movie was loosely based on. In a nutshell, in 1983 a woman was gang raped in Big Dan's Bar, and as she cried for help the other patrons either ignored her or cheered her attackers.
This case brought "blaming the victim," to the national conversation. The four defendants were tried in two separate trials because they implicated each other.
Hmmm…juries are really important…I mean of course they are! But somehow it was starting to hit home.
The Number 2 Thing I Learned at Jury Duty…
Courtesy of the obligatory Intro to Jury Duty video: John Adams believed a trial by peers was on par with the right to vote, "the heart and lungs of liberty," a key underpinning of democracy. This is why it is our civic duty. John Adams is someone I really admire; he was the personification of integrity, and devoted his entire adult life to building our nation. My ears perked up, and my mind was opening…
The Number 1 Thing I Learned at Jury Duty…
Also courtesy of the video: women only attained the right to serve on a jury in Massachusetts in 1950.
Nineteen Hundred Fifty.
In my mother's lifetime.
Thirty years after women were given the right to vote.
I was incensed. It was all I could do not to blurt, "What? Are you kidding me???"
At that point I was all in! Bring it court system! Sign me up, I will be an excellent juror!
So I'm all fired up, ready to serve, and what happens? I don't even get called for selection. Sigh.
The officer in charge made sure that those of us left in the waiting room knew we actually did play a role by our mere presence: the case we were slotted for was settled, knowing we were ready to hear the case.
Well, civic duty done! I am off the hook for three years. But now…I do hope to sit on a jury someday.
Help me out! Have you sat on a jury? I would love to hear your about your experience—what was it like?! Please share in the comments or over on Facebook or Twitter!