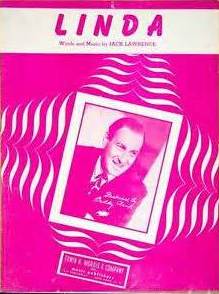 I bet you know a Linda. I bet she is somewhere between the ages of 52-74.
No, I'm not testing my psychic abilities, I just know that Linda was a wildly popular name for girls in the United States from 1941-1963. So I just did some math.
In fact, Linda ranked in the top three for sixteen years, from 1944-1960, and was numero uno for six years running from 1947-1952.
Why you ask? What's the fascination with the name Linda? I mean, it's a lovely name…in Spanish it means beautiful…but why number one for six years straight?
Actually, six years at the top isn't really a big deal (see the chart), but for two things: Linda broke the Mary streak, and Linda seems to be the only popular name attributed to a cultural craze.
THE IMPACT OF POP CULTURE
You may know the song "Linda," it was a huge hit for Buddy Clark back in February 1947. Yes, 1947, the same year that the name Linda hit number one with American parents for the first time!
This story has an interesting twist: the song was written in 1942 for one-year-old Linda Eastman. The same Linda Eastman that would grow up to marry a guy named Paul McCartney – you may have heard of him?
The lyrics aren't aimed at the toddler set—at all—so how did this come about?
Songwriter Jack Lawrence was close friends with his attorney, Lee Eastman. Eastman asked Lawrence to write a song inspired by his new daughter's name.
According to Lawrence, as he shopped the song to publishers in 1942, he found they liked the song, but were puzzled by the choice of the name Linda, because it wasn't a popular name—for the adult women at the time! They even suggested other names to use, but Lawrence wouldn't budge; he'd written the song for little Linda. So it took some time to get published:
Would you believe that nothing happened with my "Linda" song until…1946? My attorney friend called to tell me that one of his clients, Charlie Barnett was starting a company and in return for publishing rights, agreed to record "Linda." Okay, I said. And then a weird thing happened. Somehow, Ray Noble got an advance copy of the song, fell in love with it… and recorded it with Buddy Clark singing the vocal. After all those years of going nowhere, "Linda" was an overnight sensation.
…And so the Linda Generation was born!
WHY AM I WRITING ABOUT LINDA?
Yes, my mother's name is Linda. I didn't know about the song until several years ago when my grandmother asked, "can you find me a copy of the song Linda, by Buddy Clark? You know that's why your mother is named Linda." How had I gone 30+ years not knowing this little nugget? (And thank you iTunes!)
I have to say, my thoroughly modern mind was a little shocked the first time I heard the song, specifically the intro…definitely from another time and place! My reaction was "RUN LINDA! RUN!"
Check out the video (MTV ain't got nuthin' on this!), and see what you think:
Hello Creeper! And that tie??? I'd be running from the tie alone.
WHY DO NAMES BECOME POPULAR?
Studies show it is "herd mentality"—people go with what others do—and change is simply random. When you look at the top five names over time, you see a name move up the list, like Linda from 1942-1946, and when it reaches Number One people are hooked and it stays there for years.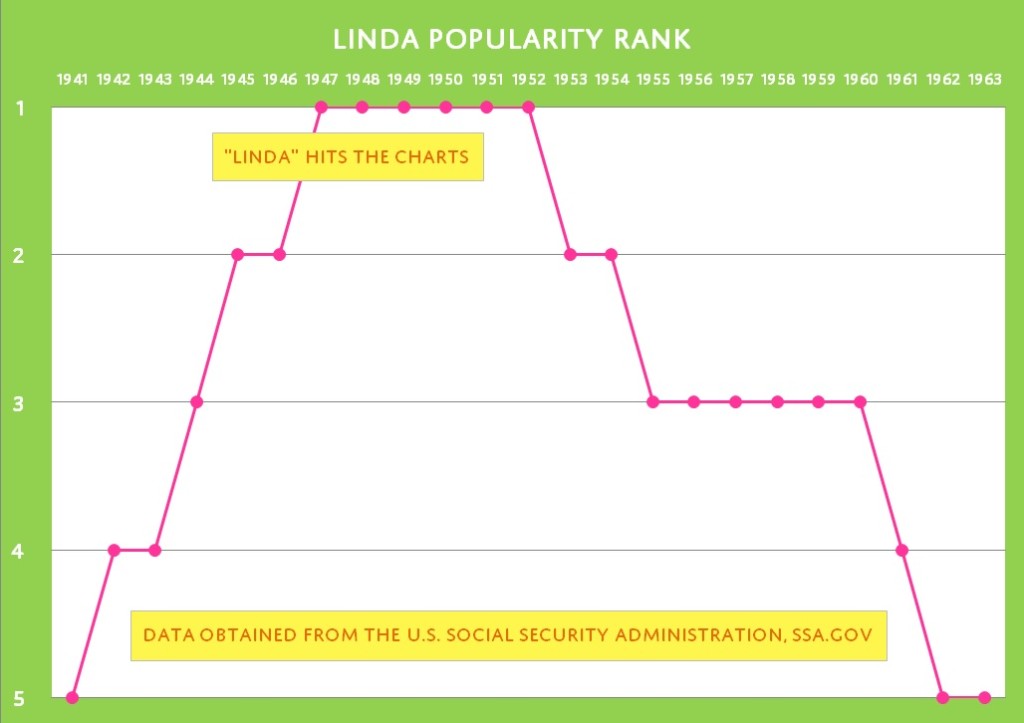 The final analysis on Linda?…compared to Mary, Jennifer, and Emily, the fad burned hot and fast.
A flirty song arrived at just the right moment to give Linda the boost to unseat pious Mary (temporarily), making it a rather unique trend!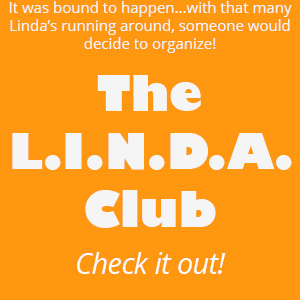 Are you a Linda? Might you join the LINDA Club? And how about the song, what do you think? Let me know in the comments! Come on over to Facebook and see what's new there too!
SOURCES:
McLellan, Dennis, "Jack Lawrence dies at 96; songwriter did lyrics for 'Tenderly' and 'Beyond the Sea'," LA Times, March 18, 2009,   http://www.latimes.com/local/obituaries/la-me-jack-lawrence18-2009mar18-story.html
United States Social Security Administration, Official Site, http://www.ssa.gov/OACT/babynames/top5names.html, accessed January 21, 2015.
United States Social Security Administration, Official Site, http://www.ssa.gov/OACT/babynames/decades/century.html, accessed January 21, 2015.
Wikipedia, Linda McCartney, https://en.wikipedia.org/wiki/Linda_McCartney, accessed January 21, 2015.
Sounes, Howard. Fab: An Intimate Life of Paul McCartney,Cambridge, MA, De Capo Press, p. 173.