Old movies.  I love them.  Yes, I enjoy the stories like most people, but I have to admit…I have an ulterior motive for watching them.
I get a History Fix.
How?  Pieces set in the "present" speak to that point in time—fashion, set design, the vehicles—so much eye candy!  Even period pieces tend to hint at the year the film was made, often through makeup and the sets.
And the script!  It's the social prejudices of the day presented on a platter, not just through the plot, but the lines, their delivery, and what's considered humor.
The references to current events and products and the latest technology—those are golden!  Seeing old phones and record players and such…it kind of warms my heart. It never ceases to amaze me how much has changed, and how quickly!
So, periodically I'll be sharing a Cinema Fix with you:  photos, quotes and fun bits, as well as "hmphf" moments that illustrate some sort of unfairness.  I'll only share the plot basics though.  No spoilers!
COME SEPTEMBER
Let's look at one of my favorite oldies, Come September.  Released in August 1961 it starred Rock Hudson, Gina Lollobrigida, Sandra Dee, Bobby Darin and Walter Slezak.  It's a light-hearted film that pits the Younger Generation against those old people pushing 40…there's a "hmphf" right there!
This is the movie that brought Sandra Dee and Bobby Darin together; they eventually married, and created a life way more dramatic than any film they ever made.  Darin also won a Golden Globe for this, his film debut, for Most Promising Newcomer.
This movie is basically about sex: who wants it, who should have it and under what terms.
The adults—Hudson's Robert and Lollobrigida's Lisa—have an intense, if sporadic and uncommitted, relationship.  Yet they both feel protective of the brood of 18-year-old American girls they find themselves hosting in Robert's villa, thanks to his butler running the place as a hotel while he is gone. They try to shield them from their illicit romance, and Robert in particular coaches the girls to be virtuous.
Needless to say, the hypocrisy of the situation creates tension.
Really, it's an age-old tale of the double standard women face every day, even in 2016.
That said, the story is told in an amusing manner, and the look of the film is gorgeous!
THE FASHION
I admit it:  I have a girl-crush on Gina Lollobrigida.  I mean really, how can you not?  I just want to be her.  Or at least have her wardrobe in this film.  These classic styles are stunning.  And that's not a fancy photo filter, but rather my tv screen distortion! (Most likely this "effect" will be a feature of My Cinema Fixes!)
The fish top is so cute, I couldn't really capture it well: boat neck and half-sleeves with a dart above the elbow, and the fish is printed on vertical striped fabric.  The shape elevates it from a t-shirt to something more. I love the caramel-colored suit, and the "red hat, black dress" moment is to die for!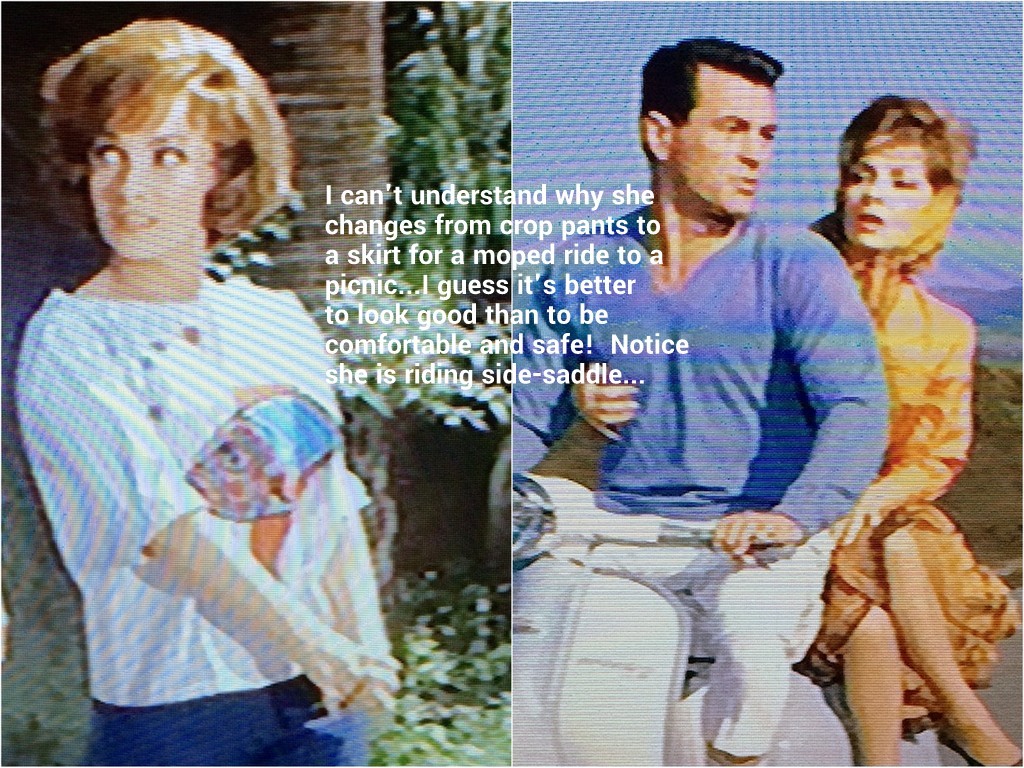 The Wedding Dress.  Lisa spends some quality time in this dress, yet we don't see her walk down the aisle in it.  Again, stunning!  I would totally wear this dress, or some non-wedding version of it, but probably minus the tiny wedding cake crown!
And Rock Hudson is sure easy on the eyes.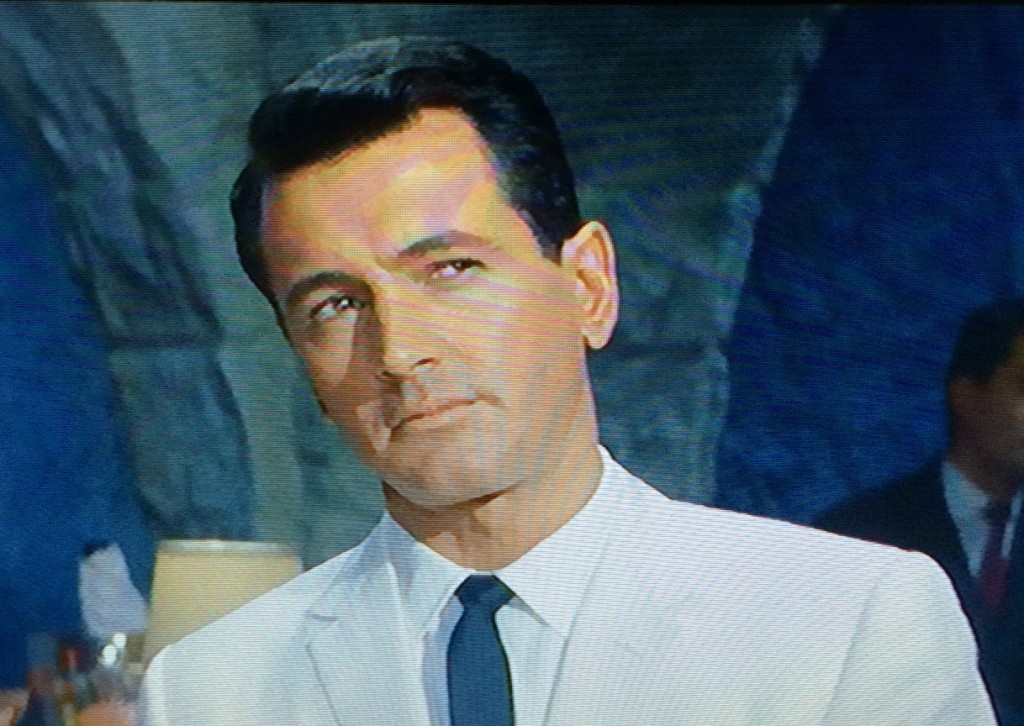 The hot couple tearing up the dance floor!
MOMENTS FROM THE SCRIPT
From a time when it was thought safe to view a mushroom cloud from a scant two miles way, as long as you wore your sunglasses…
Teenagers are like the H-bomb, when they go off its much better to observe them from a distance!–Robert
There are a fair number of war references in this film, even as part of the plot in the beginning.  Here Bobby Darin's character, Tony, explains to his buddy that Robert may seem tough, but at his age, he'll run out of steam soon:
The B-29 was a rough plane, but it can't keep up with the guided missiles!
Oh the changing economy…here's Robert cursing his Rolls Royce (or whatever it is!):
A $20,000 car isn't supposed to get a flat!
And my biggest "hmphf" moment:
Let me tell you something about Italian women, they're not to be trusted!  They're deceitful, they're emotionally unstable!" cries Robert.  His lawyer replies, "Doesn't that apply to all women?" "Of course it does…that's where they've got us…there's nothing else to replace them with!
The misogyny here gets my hackles up. But the irony?  In retrospect we know something the 1961 audience didn't: the heartthrob actor complaining about being stuck with women was actually gay.  The times being what they were, he was stuck pretending to be attracted to women, sham marriage and all. In 1955 rumors about his sexuality were swirling behind the scenes.  He married his agent's secretary—it lasted three years.  Upon her death in 2006 it was revealed she was a lesbian, and that she tried blackmailing him.  Their divorce agreement awarded her $250 per week for ten years.  What a mess!  It's a shame they couldn't just be who they were.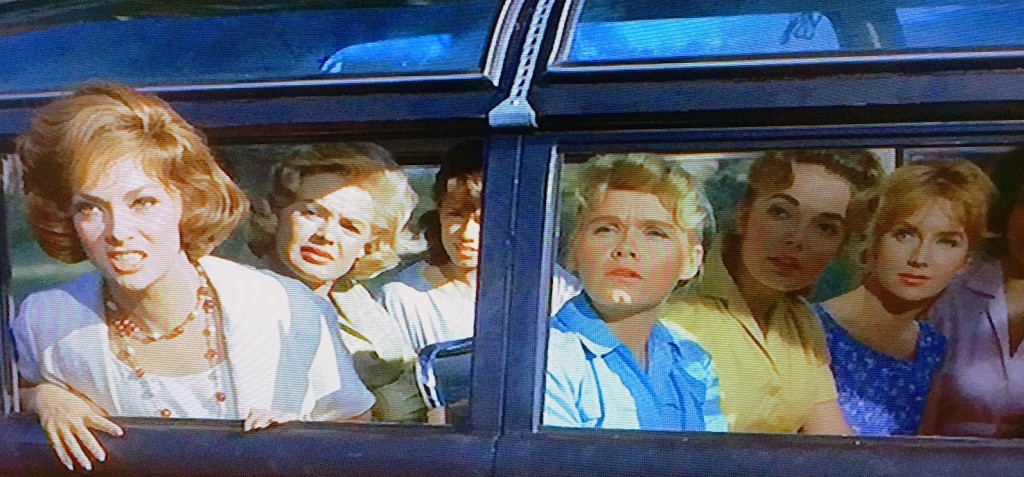 This final quote is just fun, and it shows how Lisa had a more relaxed attitude toward gender relations in general, not just for herself and her relationship with Robert:
What can happen to them? They are four boys and six girls. That adds up to ten, and there is safety in numbers!" reasons Lisa. But Robert counters, "No! There's more to mathematics then adding. Those boys look quite capable of dividing and multiplying!
Have you seen Come September?  If so, what did you think?  Do you have an old school girl-crush or boy-crush? Let's chat in the comments below, or click over to My History Fix on Facebook.
SOURCES:
Come September (1961), http://www.imdb.com/title/tt0054759/, accessed February 21, 2016.
Rock Hudson, https://en.wikipedia.org/wiki/Rock_Hudson#cite_note-fa1-19, accessed March 23, 2016