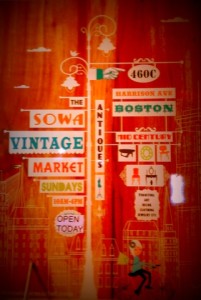 One of my favorite check-ins for vintage goodies is the SoWa Vintage Market in the South End neighborhood of Boston.
Located in an old warehouse on Harrison Street in the South of Washington Street district, the Vintage Market is jammed with vendors and is open in conjunction with the SoWa Farmers Market during the summer.  But while the farmers market goes dormant in the cold winter months, the vintage side continues, though on a smaller scale.
It's actually quite nice to go in winter—the space is heated and it's not as crowded.  I had a productive visit in February, finding a new-favorite-vendor, Joy Street Vintage.
I am always on the lookout for good informational pieces—old magazines, books, pamphlets and even postcards and photos—and I hit the jackpot in the Joy Street Vintage booth!
Paper is one of those things that just doesn't hold up that well over time, which makes it ephemeral of course, so I was super-excited to find a stash of old Popular Mechanics and Life magazines with great color and in excellent condition.
This gives you a hint of some future posts!  (Click to enlarge)
I wasn't leaving without this iconic Space Race issue of Life from November 1957, featuring "Top U.S. Space Expert" (and former Nazi*) Werner Von Braun and the historic launch of Sputnik II by the U.S.S.R.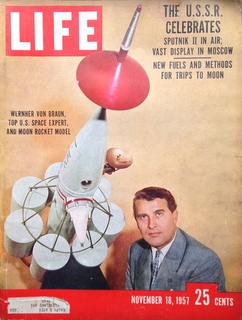 I literally gasped when I realized I was looking at a library-bound volume of the July-December 1920 issues of House and Garden magazine!  In all my travels I hadn't come across a library volume of any periodical, and here was one of my favorite magazines from one of my favorite decades—I couldn't believe it–six issues in one book?! Way too good to be true!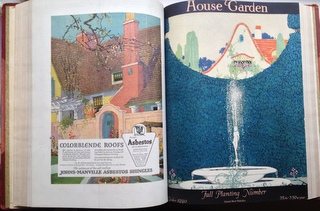 I am actually familiar with this exact volume, having done a magazine survey that included these issues during grad school.  I went through every issue of House Beautiful and House and Garden for the years 1920-1925, and counted the occurrences of different house styles, both in articles and in advertising.  So they are not only hard to find, but I have a very personal tie to them.
I also came away with a couple of books and a handful of postcards.  Overall a major score!
Do you like to shop the resale market?  What are your favorite things to troll for?  Share you collection stories in the comments!
*For more on this topic see: John Gimbel, "U.S. Policy and German Scientists: The Early Cold War," Political Science Quarterly, Vol. 101, No. 3, (1986): 433-451.