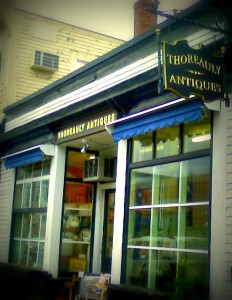 This blog is about me getting My History Fix, but it isn't the only way I get my "old"…I started selling antiques again last June—something I used to do for years back in Detroit.
I love the thrill of the hunt, but I also love passing wonderful pieces of our culture on to new lives with new owners.
I have space in a shop called Thoreauly Antiques (yep, as in Henry David Thoreau of Walden Pond fame…which is just down the street) in historic Concord, Massachusetts. It's pronounced "Thoroughly" but for the life of me I can't stop saying "Thoreau-ly!"
Before I moved, on a visit to Boston, my friend Holly made sure we stopped by this shop when visiting Concord for the first time—she knew I would love it—and it became a tradition for subsequent visits! Who knew this place I loved to visit on vacation from Detroit would become such an important part of my life today!
Let me show you around…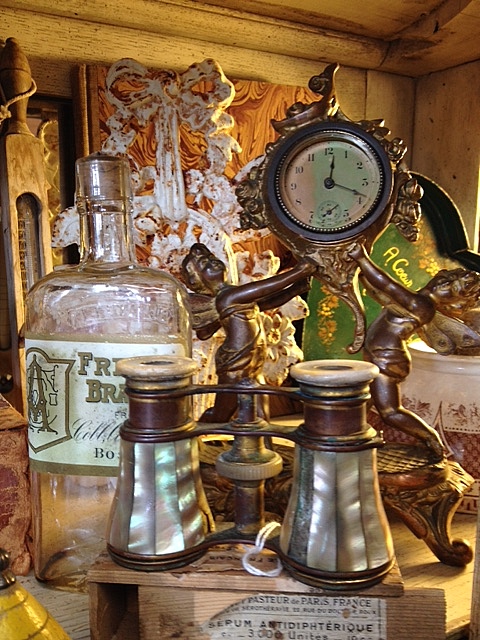 The market is quite different here in Massachusetts, it's easier to find older things than it is in Michigan. (Dealer: Abby Harvey)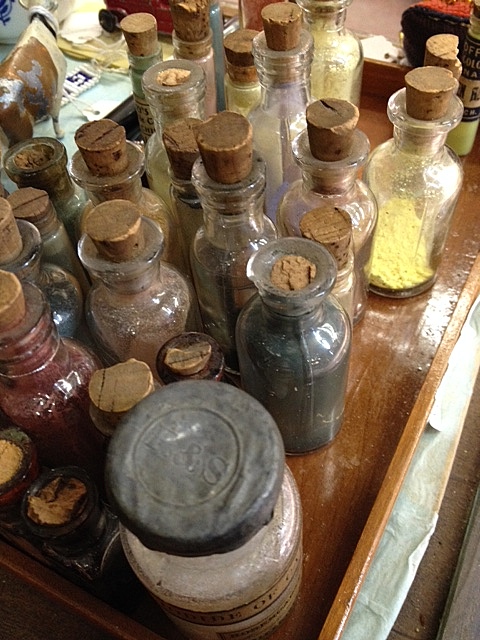 Bottles of old dye! We have lots of fun, quirky finds at Thoreauly Antiques. (Dealer: Jane Sulesky)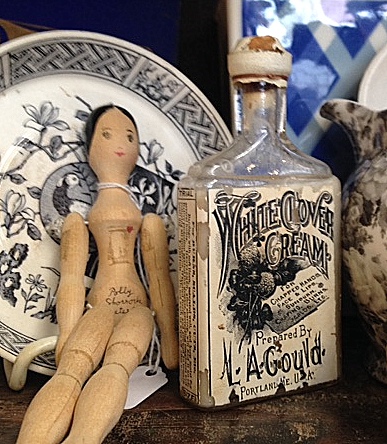 And more traditional finds as well…I've become a fan of black and brown transferware (the dish behind the doll). The designs were printed with copper plates onto tissue-like paper, and then while the ink was still wet it was "transferred" to the piece before firing. Sometimes if you look closely you can see where patterns were applied less than carefully!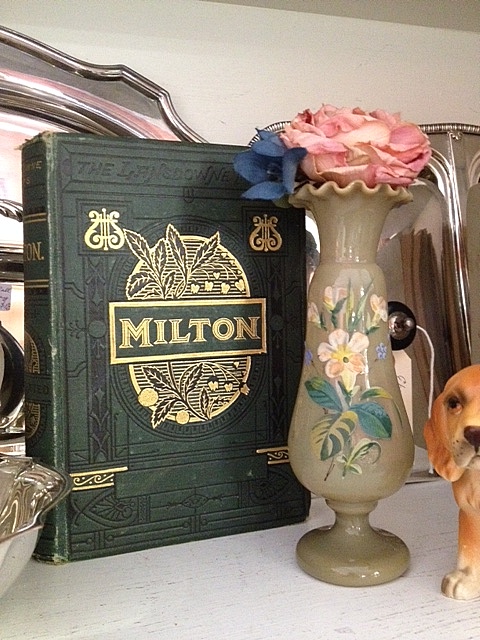 Of course we have lots of old books! They are wonderfully decorative and offer a glimpse into the past. (Dealer: Christie Murphy)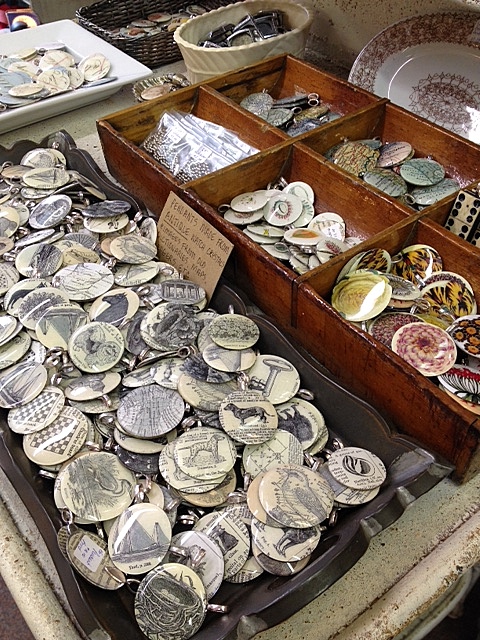 These pendants are fashioned from watch crystals and old dictionary and ledger pages. The dealer pulls first names from old ledgers—I bought "Samuel" in remembrance of my grandfather. Many dealers sell bits and pieces to inspire the artist in you.  (Dealer: Cary Goodrich)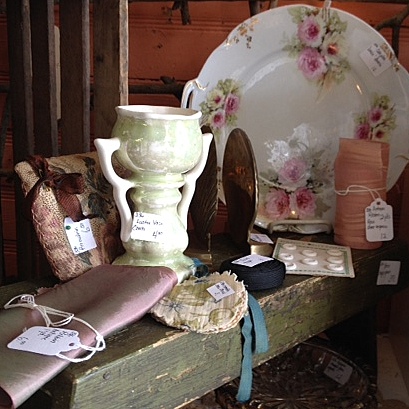 More pretty things…  (Dealer: Antique Threads)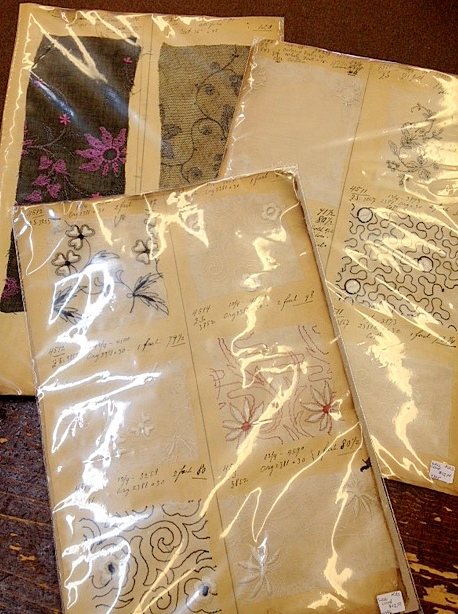 I am fascinated by these lace samples! I'm sure one will find its way into a frame in my home soon…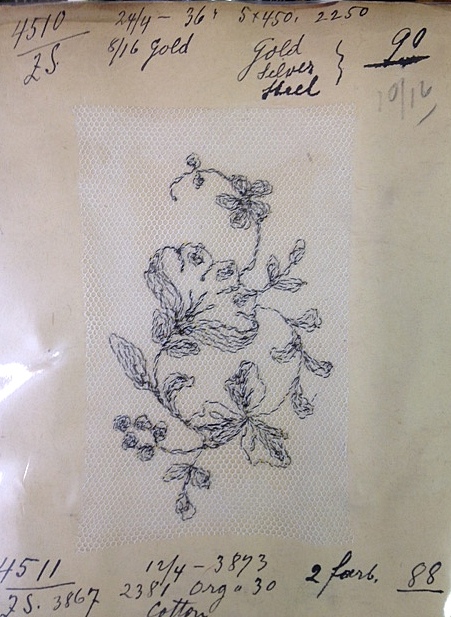 Here is a close up.  (Dealer: Antique Therapy)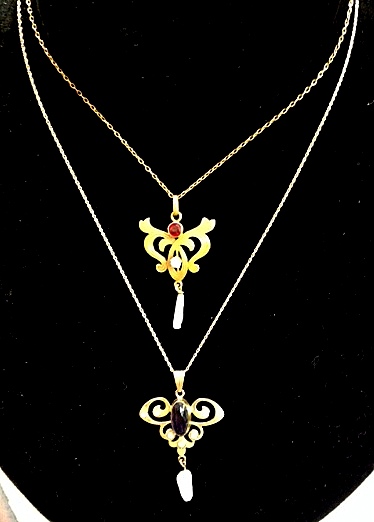 We have loads of vintage jewelry too!  (Dealer: Sandra Previte)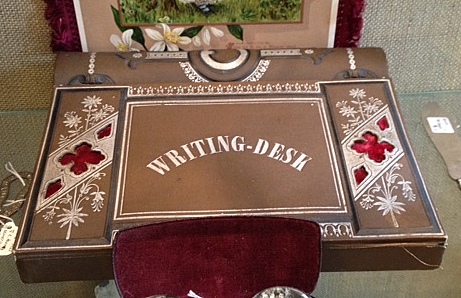 Before emails and texting…it's much prettier than my iPhone.  (Dealer: Bonnie Barnum)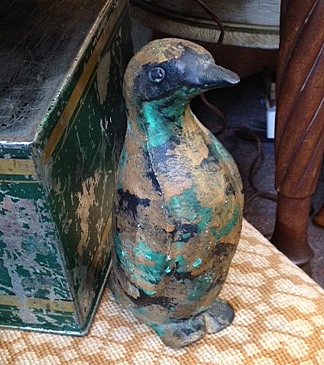 And I love me some penguin!  (Dealer: Bonnie Barnum)
This is just a very small sampling of what you'll find at Thoreauly Antiques. Somehow I managed not to include photos of my own space—so I'll do a feature on ME in the coming months!
If you find yourself in the vicinity of Concord, Massachusetts, do yourself a favor and check out Thoreauly Antiques! There are lots of great shops in Concord—including other antique shops for my fellow "lovers of old"—so come on by!
Are you antiquer? Share what you hunt for in the comments, and over on Facebook!
PHOTO CREDIT:  All photos by Christina Branham, except Feature Photo on home page by Keri Seery of Antique Therapy.