In honor of March being Women's History Month, I want to share the stories of three fascinating female ground-breakers…
MADAM C.J. WALKER (1867-1919)
ENTREPRENEURIAL TRAIL BLAZER
Being a self-made millionaire is impressive.
Achieving this level of financial success 100 years ago as a woman is astounding…but as a woman who was the first free-born child of former slaves? I frankly can't find a word to properly describe that scenario. Let's just say Madam C. J. Walker is a hero in my book!
Born Sarah Breedlove in 1867 in Mississippi, she was an orphan by the age of seven. Her young life was hard, and to escape, she married at the tender age of 14. She had a daughter, A'Lelia, at the age of 18 with her husband Moses McWilliams, but she was widowed just two years later.
Sarah moved to St. Louis where she met her second husband, Charles Joseph Walker, an ad man—they proved to make a great business team!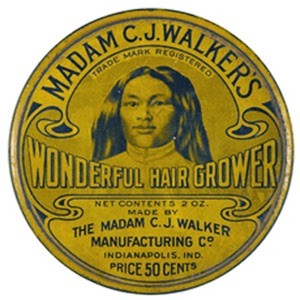 In the 1890's Sarah lost much of her hair due to a scalp condition. To treat the ailment she experimented with a variety of home remedies and store-bought goods, perfecting her own products and methods.
Her husband Charles helped her devise advertising, and to distinguish her from all the Sarah Walkers in the world, suggested she become Madam C. J. Walker, which gave her brand a memorable name.
By 1910 the Madam C. J. Walker Manufacturing Company had opened factories, beauty schools, and supported a sales staff of trained beauticians known as "Walker Agents."
A socially active philanthropist, Walker made sure her company gave back. She created opportunity for her staff, and rewarded them for following her lead in philanthropy and educational endeavors, as well as rewarding them for sales success. She believed in economic independence for all women.
By the time of her death in 1919 at age 51, a divorced Walker had settled in New York, a millionaire! Walker left one third of her estate to her daughter, and the remainder to various charities.
Madam C. J. Walker is held to be the first self-made female American millionaire.
IDA TARBELL (1857-1944)
THE FORMIDABLE MOTHER OF INVESTIGATIVE REPORTING
Born in a log cabin in Pennsylvania Oil Country, Ida Tarbell would become the person to rock the lofty world of John D. Rockefeller.
Tarbell enrolled in college with the intent of living life as an independent woman, and was the only woman in the Alleghany College class of 1880. After a brief stint as a science teacher, she began her writing career in 1883 at a monthly magazine out of Meadville, Pennsylvania called The Chautauquan.
Journalism proved to be her true vocation, a calling she resolutely followed.
Her desire to "rescue women from the obscurity of history" sent her to Paris at age 34. There she dove into the life of Madame Roland (who lead an intellectual salon during the French Revolution, but died at the guillotine), through means unconventional for the time, such as family letters and personal papers.
To support her work she freelanced for American magazines; these writings caught the eye of Samuel McClure, creator of McClure's, a magazine with a "conscience." He offered Tarbell a position in 1894—how could she refuse?
It was a symbiotic relationship: Tarbell had a national platform, and McClure saw his namesake's circulation nearly double thanks to Tarbell!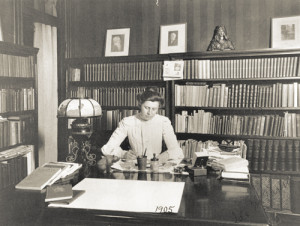 Ida Tarbell became known as an exceptional writer of integrity.
Her integrity drew her to the topic of how rising corporate monopolies were affecting people's lives. She set her sights on what she knew intimately from her youth in Pennsylvania: the Oil Industry.
Tarbell's father Frank was a small oil producer and refiner who, like many others in the field, was hit hard by the Southern Improvement scheme of 1872. This was a backdoor agreement between railroads and refiners led by John D. Rockefeller, the consequences of which Tarbell did not forget.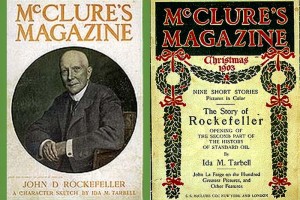 She embarked on years of meticulous research, fearlessly taking on the Rockefellers' monopoly, and uncovering their unfair business practices. The result was a 19-part series in McClure's published between 1902-1904.
The wildly popular articles were compiled in a book called The History of the Standard Oil Company, published in 1904.
Tarbell's opus work was taken into account in the U.S. Supreme Court's 1911 decision to split up the Standard Oil monopoly.
Ida Tarbell's methodical approach to research and journalism, and her ability to convey complex issues and ideas to the masses made her a pioneer in the field. Today Ida Tarbell is considered one of the top investigative journalists of the twentieth century.
MARIA MITCHELL (1818-1889)
AMERICA'S FIRST PROFESSIONAL FEMALE ASTRONOMER
Maria Mitchell was born into the family of an amateur astronomer in the whaling capital of the world, Nantucket, Massachusetts. She was fortunate that her father William recognized and nurtured her interest in science.
Sailors relied on astronomical readings to navigate the oceans, and they called on William Mitchell to check their chronometers for accuracy. By the age of twelve, Maria was her father's valued assistant.
By fourteen years of age the whaling captains trusted Maria to accurately rate their chronometers herself!
She became the first librarian of Nantucket's Atheneum library in 1836, a position she held through 1856—but this did not deter from her astronomical studies.
In 1847 while sweeping the sky with a telescope atop the roof of her father's place of business, she discovered a new comet! Dubbed "Miss Mitchell's Comet," it is officially cataloged as C/1847 T1.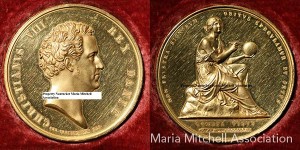 At 28 years old, this discovery earned her the respect and regard of fellow scientists. Some years earlier, Frederick VI, King of Denmark, himself an amateur astronomer, announced he would award the discoverer of a new telescopic comet with a gold medal. Maria's father applied for the medal on her behalf, and Maria was presented the medal by Frederick's successor, Christian VIII, making her the first professional female astronomer in the U.S.!
Maria Mitchell became the first woman named to the American Academy of Arts and Sciences in 1848, and in 1850 joined the American Association for the Advancement of Science.
In 1865 Mitchell became the first professor hired to Vassar College. Founder Matthew Vassar sought her out for his new school, a place for women to obtain an education on par with the best men's colleges of the time.
Mitchell was an excellent choice! She give her students practical experience studying and tracking sun spots, and observing planets—they even documented Venus transiting the Sun, one of the rarest of planetary alignments, it's only happened twelve times between 1608 and 2012!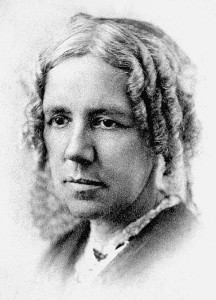 She also used the observatory dome at Vassar as a meeting place. Mitchell hosted meetings where students gathered to discuss politics and women's issues.
In this vein she was elected to the American Philosophical Society in 1869, and was co-founder and first president of the Association for the Advancement of Women in 1873.
Though she died in 1889 her memory lives on through the Maria Mitchell Observatory on Nantucket, the Maria Mitchell Association, and a World War II ship was even given her name, the SS Maria Mitchell! Perhaps best of all… Mitchell's Crater is named for her on the Moon!
How amazing are these women? It makes my heart swell to think of what they achieved in spite of the barriers set before them. Please use the links under Sources below to learn more about these inspiring women!
Who are you reflecting upon this Women's History Month? Let's chat in the comments and over on Facebook!
SOURCES:
MADAM C. J. WALKER
Biography, Madam C.J. Walker: Civil Rights Activist, Philanthropist, Entrepreneur (1867-1919), http://www.biography.com/people/madam-cj-walker-9522174, accessed March 17, 2015.
Madam C.J. Walker, Official Site, http://www.madamcjwalker.com/bios/madam-c-j-walker/, accessed March 17, 2015.
National Women's History Museum, Madam C.J. Walker (1867-1919), http://www.nwhm.org/education-resources/biography/biographies/madam-walker/, accessed March 17, 2015.
IDA TARBELL
Allegheny College, Ida Tarbell, http://sites.allegheny.edu/tarbell/briefbio/, accessed March 18, 2015.
Allegheny College, Ida Tarbell, http://sites.allegheny.edu/tarbell/halloffame/, accessed March 18, 2015.
American Experience, Biography: Ida Tarbell, http://www.pbs.org/wgbh/americanexperience/features/biography/rockefellers-tarbell/, accessed March 18, 2015.
Biography, Ida Tarbell: Journalist (1857-1944), http://www.biography.com/people/ida-tarbell-9502126#, accessed March 17, 2015.
Collective Biographies of Women, Madame Roland, http://womensbios.lib.virginia.edu/featured?id=MADAME_ROLAND, accessed March 18, 2015.
Tarbell, Ida Minerva. 1896. Madame Roland: A Biographical Study,New York, NY, Charles Scribner's Sons, p. vii-ix.
Wikipedia, Ida Tarbell, https://en.wikipedia.org/wiki/Ida_Tarbell, accessed March 18, 2015.
MARIA MITCHELL
Biography, Maria Mitchell: Astronomer, Educator (1818-1889), http://www.biography.com/people/maria-mitchell-9410353#discovering-miss-mitchells-comet-and-becoming-americas-first-female-astronomer, accessed March 17, 2015.
Maria Mitchell Association, Maria Mitchell for Students: Life in the Mitchell Home, http://www.mariamitchell.org/research-and-collections/maria-mitchell/for-students/life-in-the-mitchell-home, accessed March 17, 2015.
Vassar College, Vassar Encyclopedia: Former Faculty, Maria Mitchell, http://vcencyclopedia.vassar.edu/faculty/original-faculty/maria-mitchell1.html , accessed March 17, 2015.
Vassar College, Vassar Info: History, http://info.vassar.edu/about/vassar/history.html , accessed March 17, 2015.