I love the iconic "We Can Do It" poster—I bought a t-shirt of it back in the early 1990's, and wore it until it fell apart!
Come to find out, this graphic was not originally known as Rosie the Riveter!  That identity was assigned later, after World War II.  The icon known as Rosie (the representation of women who backfilled factory jobs and other "men's work" fields to support the war effort), has a more complex pedigree than I expected.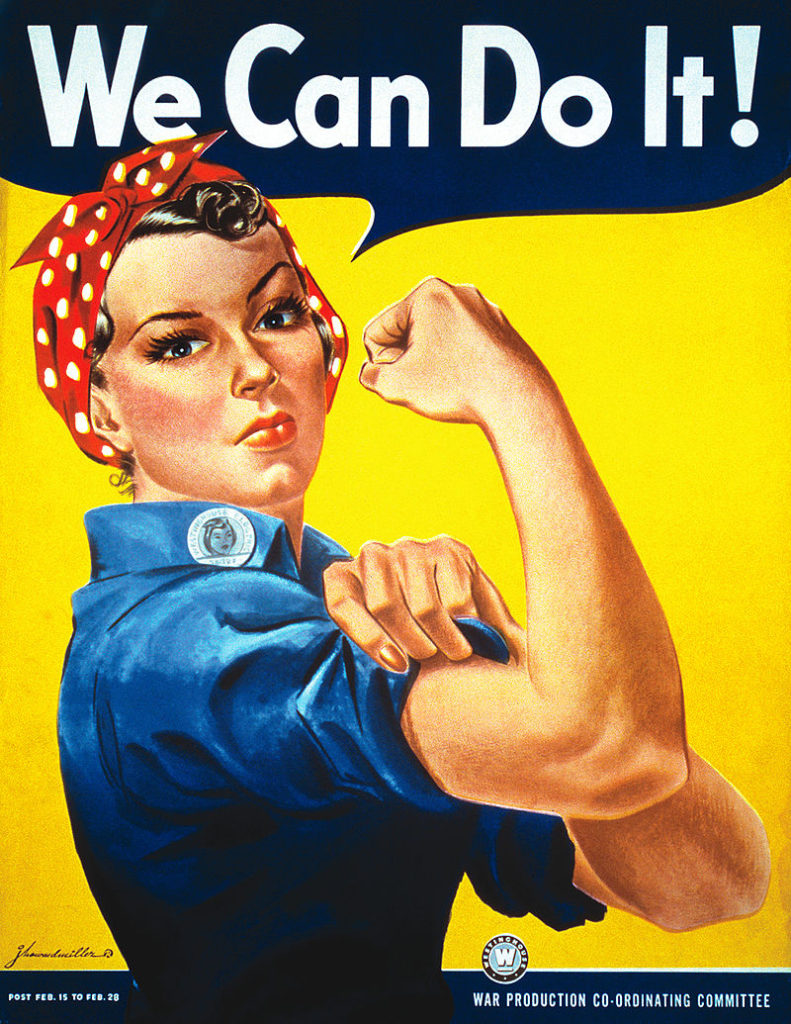 WE CAN DO IT
The poster emblazoned on my t-shirt was one of forty-two posters commissioned by Westinghouse as part of an internal campaign to support the war effort.  Artist J. Howard Miller chose the visual of a flexing female to represent the women who stepped into open positions as men went off to war. This character had no name, and there was no indication of what her job was: riveter, welder, drill press operator?  She was the patriotic everywoman. It's hard to believe, but this morale-boosting poster was only used in Westinghouse factories in the Midwest for a two-week stretch in 1943.  (Note the instructions in the lower left corner of the poster!)

THE SONG
Also in 1943, a song called Rosie the Riveter hit the airwaves. Understandably it was quite popular, and was produced by various artists including band leader Kay Kyser, and the group The Vagabonds.
NORMAN ROCKWELL'S ROSIE
It is assumed that Norman Rockwell was aware of the tune while he worked on the cover art for the 1943 Memorial Day edition of the Saturday Evening Post. Rockwell created a  confident, muscular woman in overalls, munching on a sandwich with one foot resting on a beat-up copy of Hitler's Mein Kampf.  A riveting gun rests in her lap, and the name "Rosie" is inscribed on her lunch box.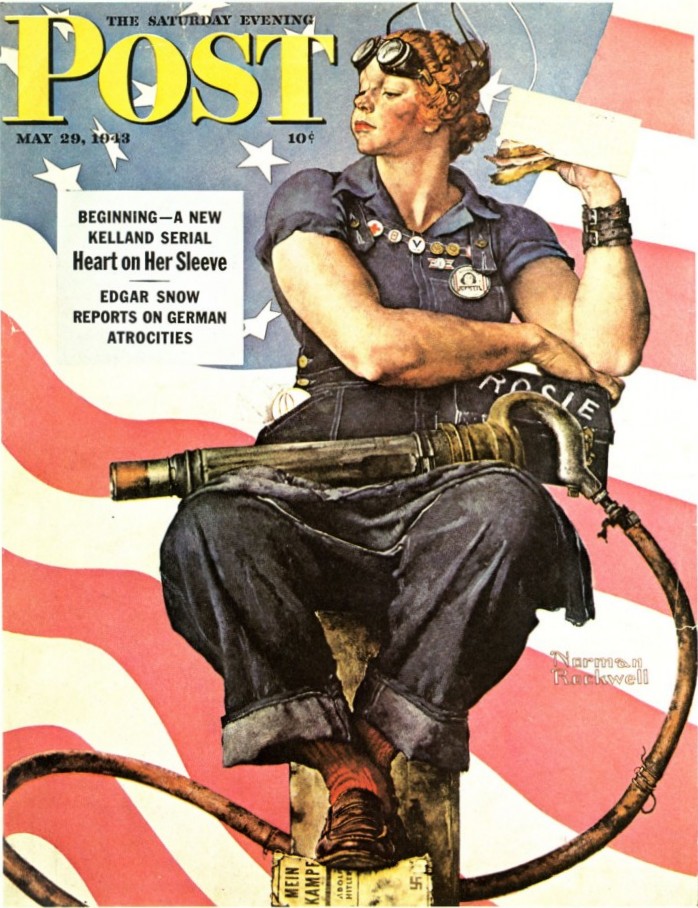 Her patriotism and contributions are displayed in the "swag" across her chest.  Along with her own ID badge, she wears several buttons: one for being a Red Cross blood donor, a "V for Victory" button, and a Blue Star Mothers pin—though she hardly seems old enough to have a child in the war!  This Rosie is also distinguished with awards, including an Army-Navy E Service production award pin and two bronze civilian service awards.  The "Production E" award is mentioned in the Rosie song lyrics, and was an honor given to companies for excellence in war equipment production.
The pose she strikes seems a bit awkward, but it too conveys a message: it was inspired by Michelangelo's portrayal of the prophet Isaiah on the ceiling of the Sistine Chapel.  Why?  As stated during a Sotheby's 2002 sale of the original art, "Righteousness is described throughout Isaiah's prophecy as God's strong right arm."  Rockwell's Rosie is certainly sporting some strong man-arms, but I would say the bigger message is that America was on the side of righteousness.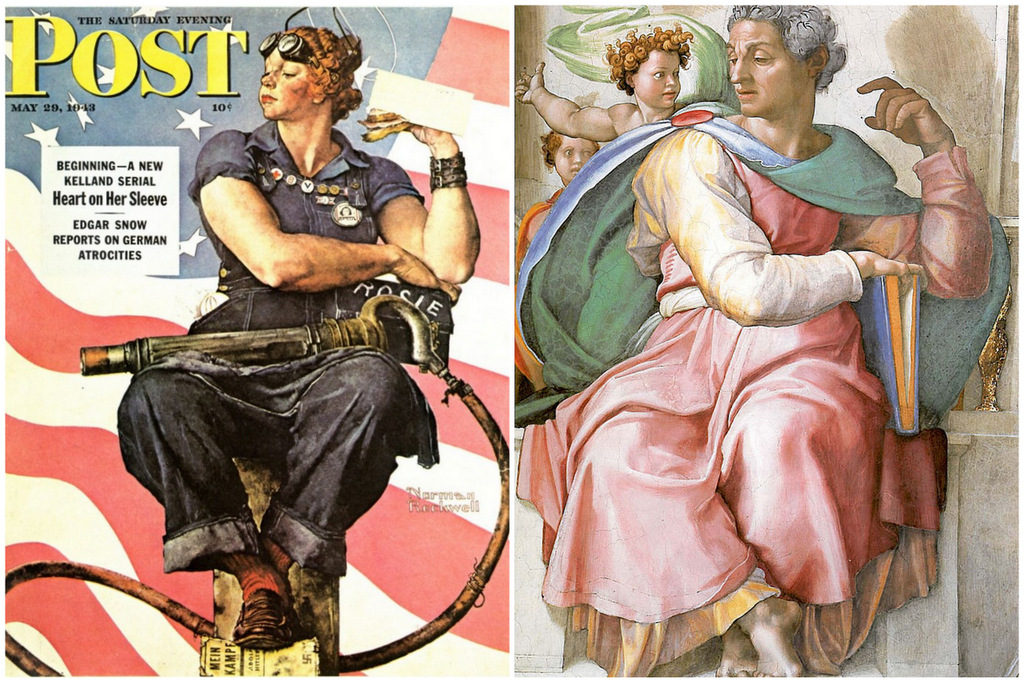 A NEW LIFE FOR ROSIE
While there were requests for the more widely known Rockwell Rosie art after World War II, they were mostly denied due to copyright issues and so both it and "We Can Do It" faded away.  Personally, I have to believe that employers didn't want these messages around anymore. They were in the process of firing most of the women these artworks celebrated so the returning men could have their jobs back.
The Rosie movement proved women could be competent in jobs traditionally thought to be "men's work."  It changed how women, especially the Rosies, viewed themselves.  The words of Inez Sauer, who worked for Boeing during the war:
My mother warned me when I took the job that I would never be the same.  She said, 'You will never want to go back to being a housewife.'  … she was right … at Boeing I found a freedom and an independence that I had never known.  After the war I could never go back to playing bridge again, being a club woman . . . when I knew there were things you could use your mind for.  The war changed my life completely.
I find it baffling that The Powers That Be thought women would just quietly go back to housework after such an empowering experience.  Beyond the jobs and the paychecks, they were making a difference in the wider world, and they knew it.  Certainly some women were happy to return to the status quo, but many were not.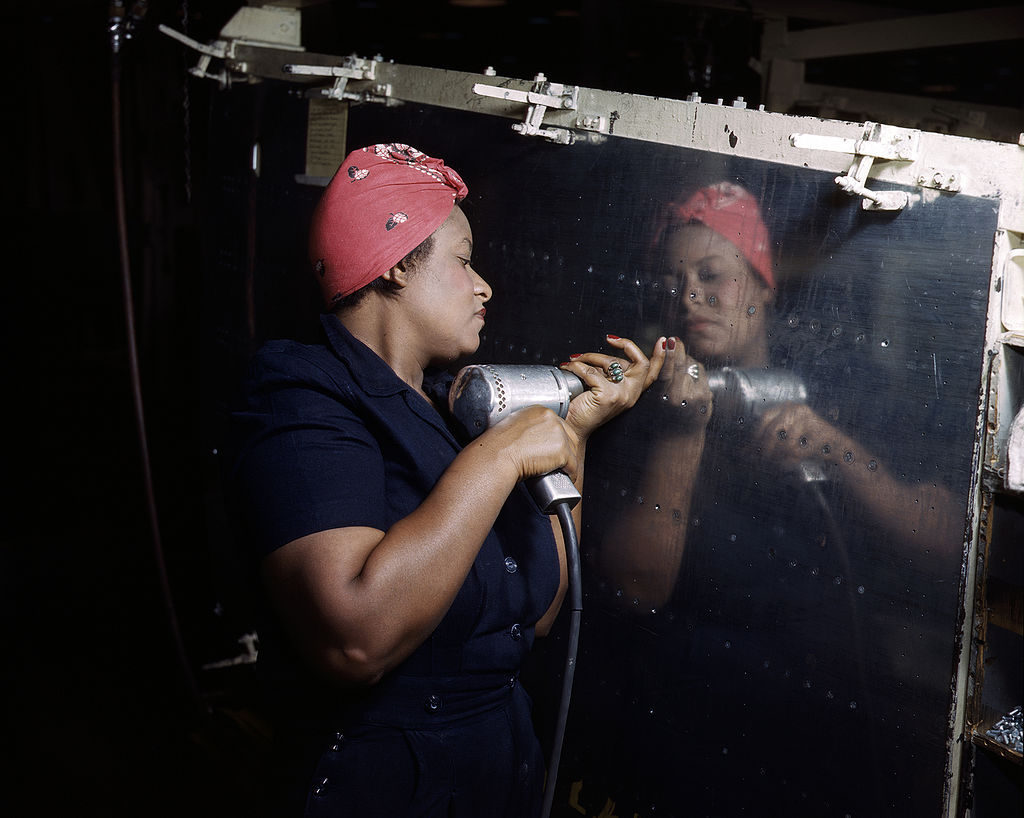 Appropriately, Miller's art resurfaced in the 1970's and 1980's as a symbol of the feminist movement, and it was then his working woman was dubbed Rosie the Riveter.  By the end of the twentieth century, the We Can Do It woman was Rosie. In 1999 she graced a U.S. Postal Service commemorative stamp honoring the women who kept America's factories running through World War II.

Being such a fan of the We Can Do It art and growing up near the Willow Run bomber plant in Michigan, it surprised me that I didn't know more backstory on Rosie the Riveter!  What about you?  Any surprises in this story for you?  Do you have a Rosie in your family?  Share in the comments, and check Facebook next week for more on Rosie!
SOURCES:
Army-Navy "E" Award, https://en.wikipedia.org/wiki/Army-Navy_%22E%22_Award, accessed August 20, 2016.
Rosie: By Any Other Name – The Riveting True Story of the Labor Icon, https://www.dol.gov/general/laborday/history-rosie, accessed August 20, 2016.
Rosie the Riveter, http://www.history.com/topics/world-war-ii/rosie-the-riveter, accessed August 20, 2016.
Rosie the Riveter: 1941-1945, http://www.pophistorydig.com/topics/tag/rosie-the-riveter-song/, accessed August 20, 2016.
Here's my "family Rosie," my Great Aunt Dora (Dee Dee). She was a post-war Rosie, seen here in 1953. She's becoming a staple of this blog–see more of her here.