I'm taking a different approach with this one…rather than my typical perusal of the world wide web, I decided to go through actual magazines, and see what auto advertising I could find.   I say "what I could find" because I specifically looked at House & Garden magazine, July-December 1920…because I own them…and I was surprised at what I saw!
The ads were exclusively targeting women—most showed women behind the wheel, which really surprised me.
The ads mostly addressed the driving issues of the day—comfort and reliability.  Yes, those remain selling points today, but as you'll see, not like back in the day!
I expected to see ads from Ford, Chrysler and Dodge Brothers, and was surprised not to find them in these magazines.  Automotive history isn't my strong suit, so I did a little checking: of course Ford was around, but Chrysler didn't start selling until 1924.  While Dodge Brothers started as a parts supplier to Detroit automakers, they began building complete vehicles in 1914.  So that explains the absence of Chrysler, but what about Ford and Dodge? Were they not swanky enough for the House & Garden set?
Anyway, let me show you what I did find! I have to apologize for the quality of the photos, but I wasn't about to dismantle these precious documents of a bygone era, just to get the paper flat and straight!
PREMIER MOTOR CORPORATION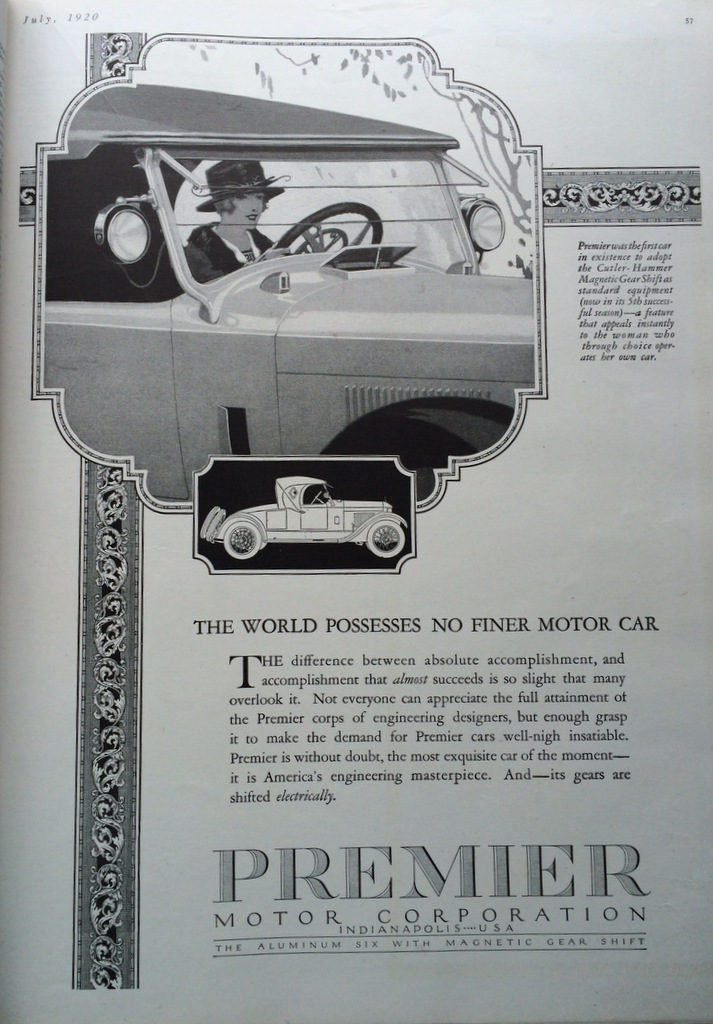 Premier…never heard of them!  Confusing copy, but if the demand for these cars is "well-nigh insatiable," then I guess I'm on board!
STUDEBAKER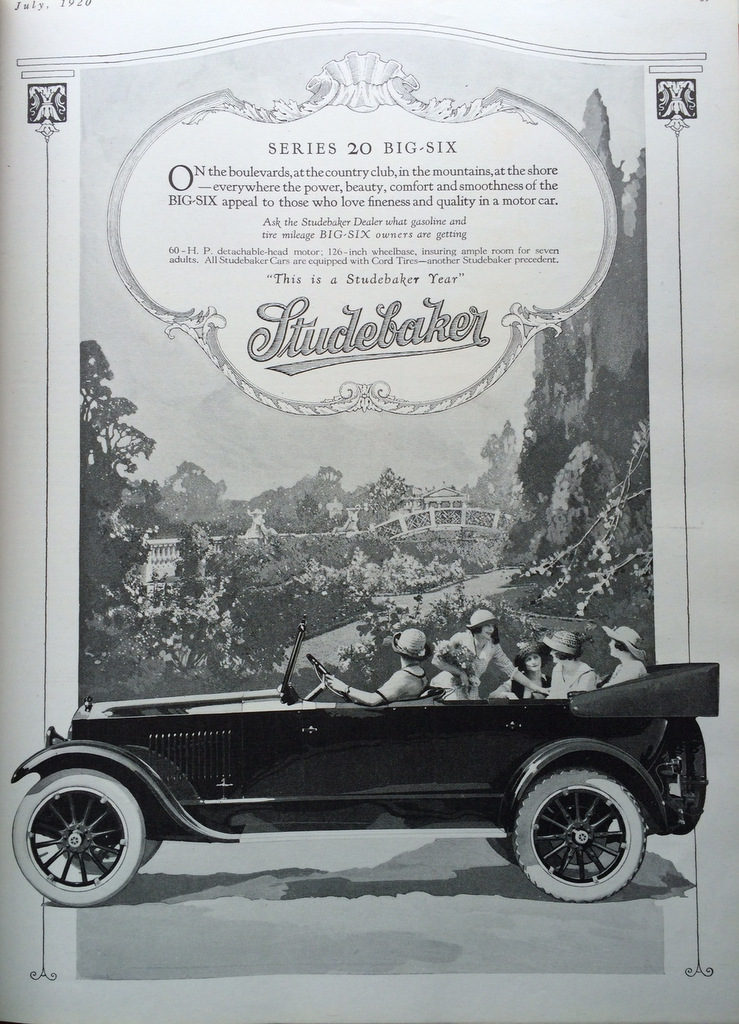 Yes, I've heard of Studebaker!  And look, it's Ladies Day Out!  I'm rather shocked.  Where are the children?  Certainly with Nanny (not with Father!)…is this another sign of the target market?  Also, as we'll continue to see, this ad depicts one of the main car activities of the day, touring.  Owning a car made getting away from the hustle and bustle of the city—taking a Sunday drive out to the country to enjoy nature—an easy thing to do.
OWEN MAGNETIC
Owen Magnetic.  Right.  This one states that owners "usually like to drive it."  Usually.  Even so, it comes in a limousine model, so it must be fairly top shelf. And even though I'm no mechanic, it sounds like there was some different technology involved.  So for you auto-goings-on-type people, I found this from auto author Henry B. Lent:
The drive mechanism had no direct connection between the engine and the rear wheels. Instead of a flywheel, a generator and a horseshoe shaped magnet were attached to the rear of the engine's crank shaft. On the forward end of the car's drive shaft, was an electric motor with an armature fitted into an air space inside the whirling magnet. Electric current, transmitted by the engine's generator and magnet attached to the armature of the electrical motor, providing the energy to turn the drive shaft and propel the engine's rear wheels. Speed for the car was controlled by a small lever adjacent to the steering wheel.
I know what a flywheel is, and I know what a magnet is…I kinda get it…?  It would be really odd to control speed with your hand though…probably since it's ingrained in us to use our foot.  Anyway, I promise I won't lay anymore of that on you!
OAKLAND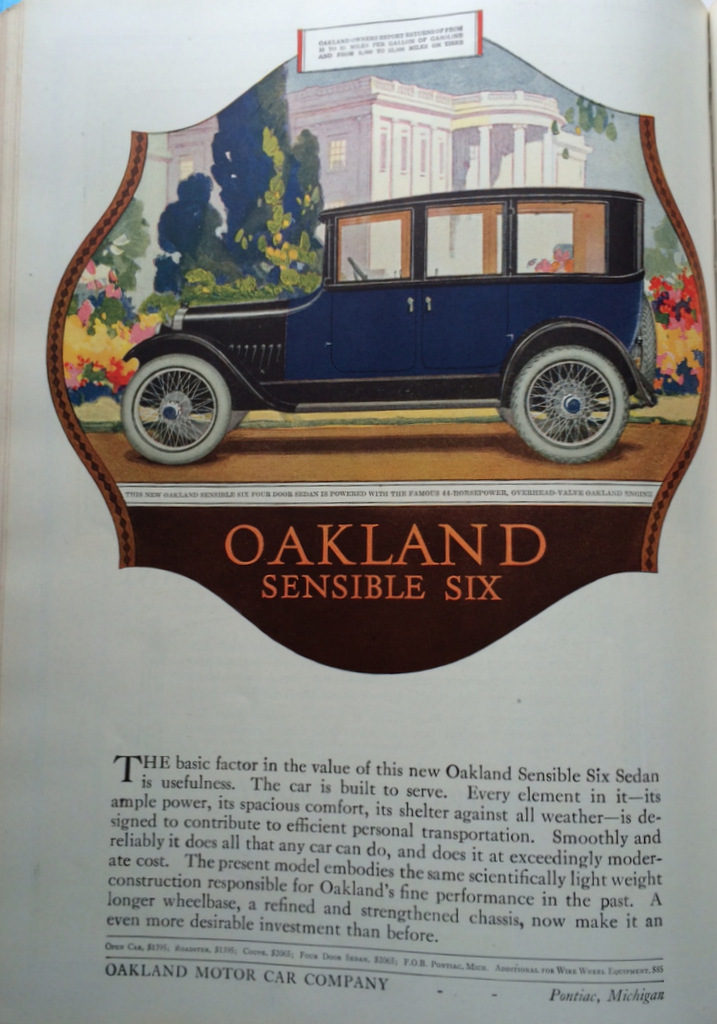 Look at this fancy-pants number!  The company was in Pontiac, Michigan, which happens to be in Oakland County, Michigan, in case you were curious about the name.  Oakland became a division of General Motors in 1909, and in 1932 the name was changed to Pontiac.
FLAT TIRES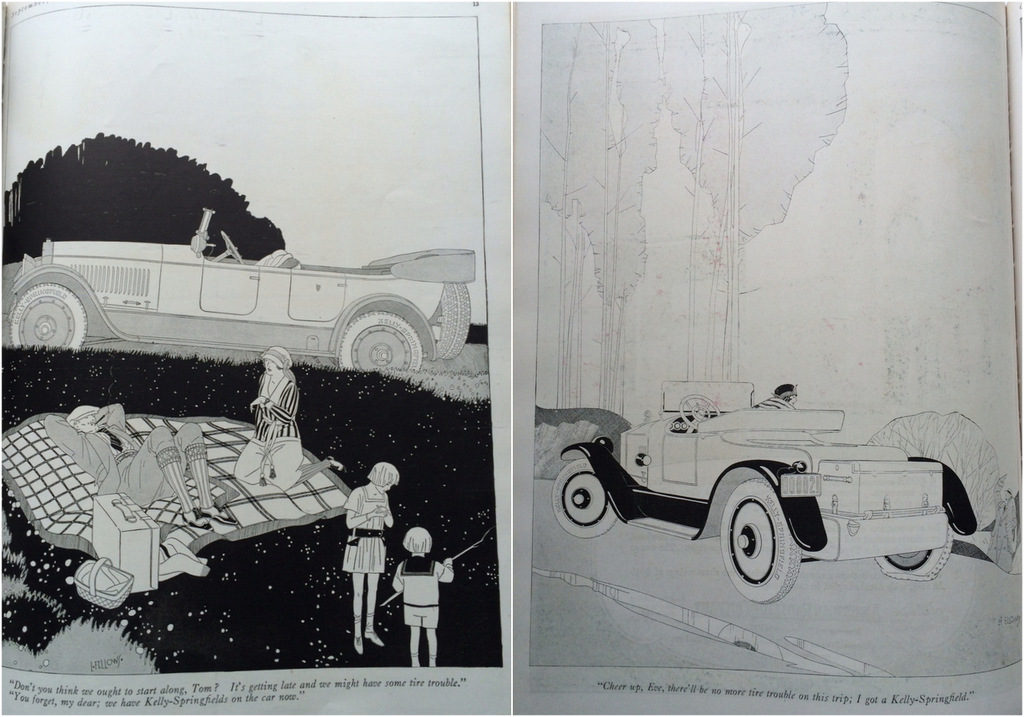 Apparently flat tires were quite commonplace in the early years of the automobile…it makes sense that this technology would be evolving as we learned how much wear and tear the roads would dish out.  I like how these full-page ads for Kelly-Springfield Tires use a cartoon approach to convey their message.  My one question though: did the man in the right-hand ad just so happen to find a tire down the hill?
SO YOU WANT TO BUY AN AUTOMOBILE?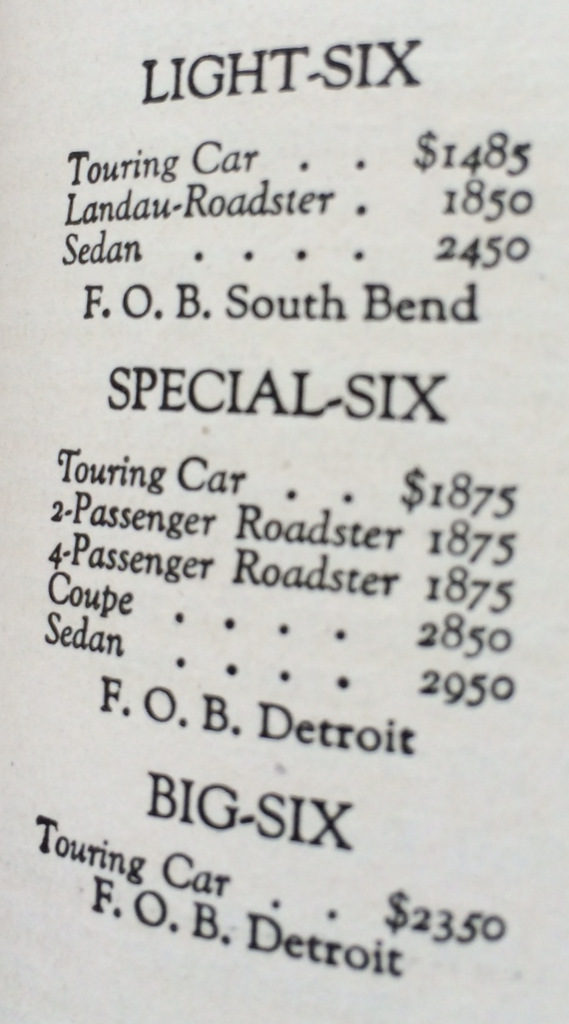 These prices are stated in a Studebaker ad in the October 1920 issue of House & Garden.  Seems cheap, huh?  When you allow for the 1920 dollar being worth 12.51 2016 dollars, the Light-Six Touring Car costs, $18,577, and the Special-Six Sedan runs $36,905. Yikes!  It really makes you think about the value of today's dollar.
WHERE TO PARK?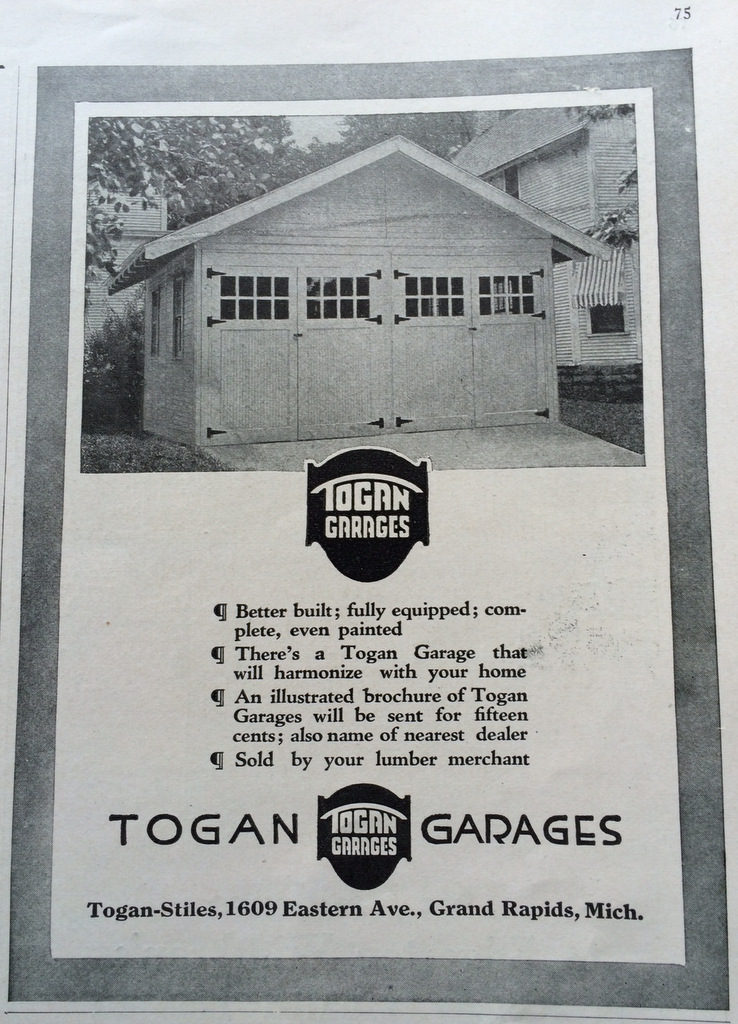 You need someplace to store your precious vehicle, right?  Well Togan Garages could hook you up.  (Personally, I park on the street.)  Based on a survey I did several years ago for a different project, ads for garages become more prevalent later in the 1920's.
STUTZ
I'm not sure what "made good in a day" is supposed to mean…I probably would have gotten it in 1920.  I love this ad for the art.  It also illustrates the art of the garage nicely.  It was a big deal to own a car at that time, so if you could afford it, your garage should have style.  The pagoda-style lines of this garage remind me of a garage I see every day.  It abuts the school where I work, and though it's totally falling apart now, you can see the pagoda lines both in the roof and base of the structure.
COLE MOTOR CAR COMPANY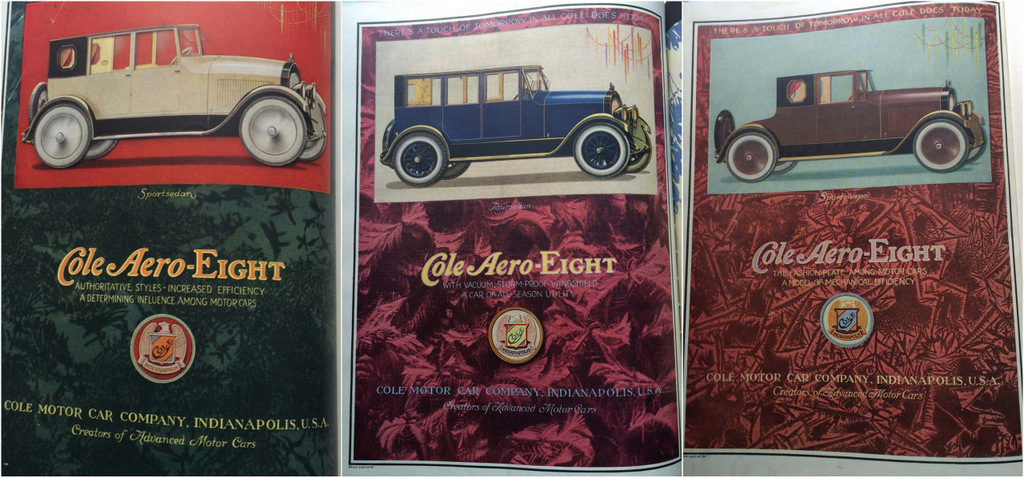 Ladies and Gentlemen…the grand finale!  I thought the Oakland was fancy pants, but then I got a load of the Coles!  1920 was a strange year for the Cole Motor Car Company.  After a record setting first quarter when 2,806 cars were produced, sales steadily slumped to the point of only 30 cars rolling off the line in December of that same year.  So these ads from the second half of 1920 represent a time of decline.  The post-World War I economy was not conducive to luxury automobiles.  By the end of 1924, Cole had begun liquidation.
Magazines are fun to read, but more than that, they are a time capsule—so much story behind just a handful of ads.
Do you have a love of cars?  Do you have a favorite era?  I love that they present another angle of the human story, our drive (no pun intended) to invent, experiment, and improve both technology and our way of life.  Sometimes we succeed and sometimes we fail.  What are your thoughts?  Share below, or over on Facebook.
SOURCES:
Chrysler History: 1920s, http://www.chrysler.com/en/this-is-chrysler/history/, accessed June 11, 2016.
Dodge, https://en.wikipedia.org/wiki/Dodge, accessed June 11, 2016.
Generations of GM History: Oakland Motor Car Company, https://history.gmheritagecenter.com/wiki/index.php/Oakland_Motor_Car_Company, accessed June 11, 2016.
Historic Structures: Full History Part 2, Cole Motor Car Company Indianapolis, Indiana, http://www.historic-structures.com/in/indianapolis/cole_motor_car_company2.php, accessed June 11, 2016.
Owen Magnetic, https://en.wikipedia.org/wiki/Owen_Magnetic, accessed June 11, 2016.