As you know from past posts, I am a huge fan of the History Channel's Vikings series…and Season 3 starts today!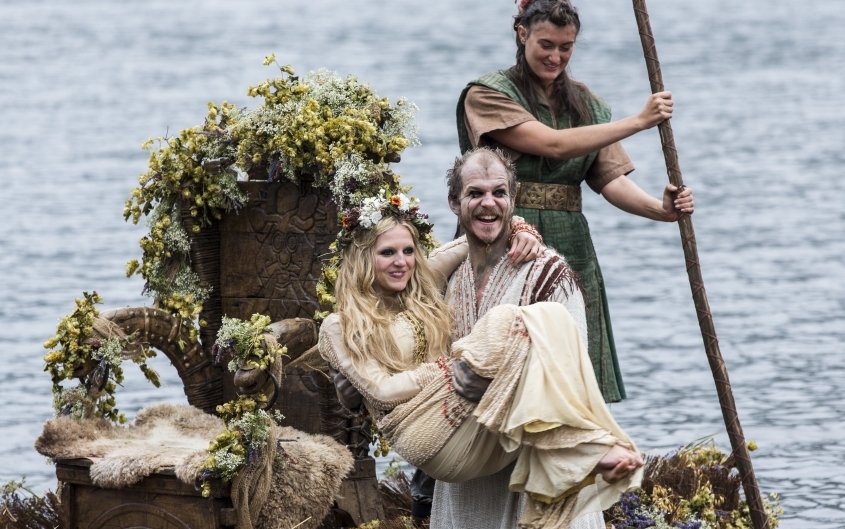 The Vikings didn't leave much in the way of written history, but the impact they had on our society was significant. Case in point, we still pay tribute to the key Norse gods. How? Well, it depends on what day it is!
TUESDAY IS TYRS-DAY
Also known as Tiu or Ziu, he is the son of Odin, chief of the Norse pantheon. Tyr is the God of War, Courage and Swords. Only a fool would fail to engrave Tyr's rune (symbolic character) on his sword. Elaborate sword dances were performed in his honor, particularly after a victory in battle.
WEDNESDAY IS ODINS-DAY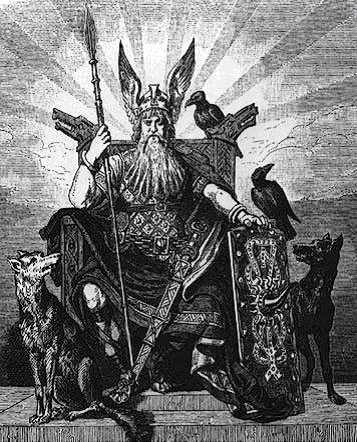 If you don't see the connection between Odin and Wednesday, try his other names, Woden or Woutan. The Allfather, the highest and most holy Norse god, he gave culture, justice and writing (the runes) to the Northmen.
All-seeing, Odin's throne doubles has a watchtower that rises high enough to observe the happenings of the world—including what the other gods are up to. He also employs two ravens to canvas the earth, and report back to him each evening—there's no hiding from Odin!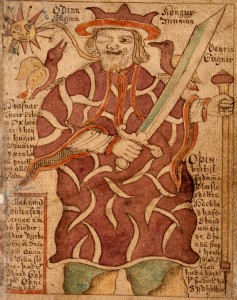 When Odin feels the need he can observe earthly goings-on up close. While mingling with humans he blends in, changing his eagle helmet for a wide-brimmed hat to conceal his missing eye.
Did I mention he is the god of wisdom? He values that commodity so highly he gave an eye for a drink from the "well of wit and wisdom."
Being the central god he was given the central day of the week…a day we now like to call Hump Day (Mike! Mike! Mike! Mike! Mike!)…I wonder what he thinks about that?
 THURSDAY IS THORS-DAY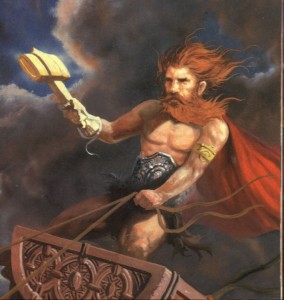 Lots of people are familiar with Thor—he's got some movies and stuff. So you may know him as the god of Thunder and Lightning, who brandishes a mighty throwing hammer with boomerang action. His already remarkable strength is doubled when he wears his magic belt…rumor has it, he can smash anything!
Like humans, the Norse gods are not perfect. Thor's great size and strength as a youth made him a bit of a problem-child, so he was fostered out to the couple that was considered the personification of sheet lightning—I guess that's where he picked up his weather gig!
The Norse gods were multi-taskers, and Thor was no exception; he was also the protector god of peasants and the lower-classes.
FRIDAY IS FREYA-DAY
And…cue music!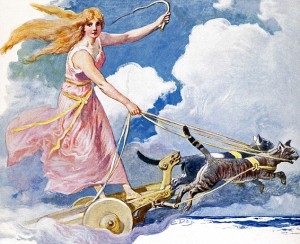 We all love Friday, well at least after 5 o'clock, and the day is named for the Norse goddess of love and beauty. She hears the prayers of lovers, and it is customary to compose love songs in her honor at celebrations.
She isn't all sweetness and light though, she is also Queen of the Valkyrs, the winged battle maidens that descend to retrieve warriors who die in battle, and escort them to Valhalla—to an everlasting life of battle glory and feasting.
Of course once Christianity took firm hold the Viking gods were demonized. Freya's association with the cat is why we now see black cats with witches on our Halloween décor.
As you can see, the Norse gods were perceived as physical beings with special powers that interacted with people and each other. Though now they have largely been relegated to superheroes and cartoons, they were once important enough to be imprinted our daily lives…even if we aren't aware of it!
Don't forget to watch Vikings tonight! Will Odin continue to bestow favor on Ragnar, Rollo and Bjorn? Will Athelstan come to terms with his
belief in two faiths?   Will Princess Gwynthryth "breed giants" with her mercenaries from the North? I for one can't wait to find out!
Click over to Facebook for more Thors-day fun!
SOURCES:
Oliver, Neil. 2013. The Vikings: A New History. New York, NY.  Pegasus Books, LLC.
Guerber, Helene A. 2006. Myths of the Norsemen. New York, NY. Barnes & Noble, Inc.