Sunday afternoon my friend Holly texted me to see if I wanted to go to Rockport (Massachusetts) with her; she was going to take a look at a property listing she found online. Why not? Rockport is one of my favorite towns and even though it's not that far from Boston, I haven't been there in a while.
It was a little bit different for me this time, since we started our visit by seeking out the house Holly wanted to see. We drove past the quaint town center—usually the destination—and as we drove up Granite Street I started noticing things:
More structures made of granite than you would expect in such a small town…What's this? An abandoned…granite company!…It's on the water…hmm…Rock-port…ding, ding, ding!
Sure enough, my "genius" observations prove to be true. Originally a sleepy fishing village founded in 1690, by the 1820's the town began to make use of the high-quality granite shelf it was perched on. Soon Rockport granite was in demand around the world; it was even used in the locks of the Panama Canal!
The granite trade declined as cement and steel construction took over in the twentieth century, but during the mid-1800's the town's scenic beauty and rugged landscape became a draw, attracting artists and tourists. Visual artists and writers alike found—and continue to find—inspiration in Rockport, making it a popular artist colony.
We passed a man who we thought was drawing the view of the ocean from the old granite company, but he was actually capturing an abandoned vehicle on the property! I'm thinking it was the juxtaposition of mans' castoffs with the vast permanence of the ocean that intrigued the artist.
In fact one of the most captured scenes in the United States is that of a lobster shack in Sandy Bay referred to as Motif #1. It has been widely painted and photographed…and, it makes an appearance in the movie The Proposal starring Sandra Bullock and Ryan Reynolds.  The film is set in Sitka, Alaska, but as the stars cruise Sandy Bay the Motif fairly shouts, "Alaska? I don't think so!  This is Rockport, Mass!"
Today the town is full of art galleries, quaint shops—plenty of touristy stuff too—opportunities for water sports, and yummy seafood! (I felt like I needed to be rolled back to the car this time, ugh!)
Seriously, every time I go to Rockport I take about fifty pictures! I've been here! I'll be coming back…but I love history, color, texture, architecture, so I can't help myself! Today I am sharing the shots I took on this cloudy Sunday, but I will share some other scenes from sunny trips on Facebook!
Sadly, this isn't the original structure…it was blown into the sea during the Blizzard of '78! That storm was a doozy! It even hit us hard in Michigan. My dad tried to go to work in it and ended up spending three days stuck in a high school gym with a bunch of truckers!   Anyway, the Motif was certainly worth rebuilding!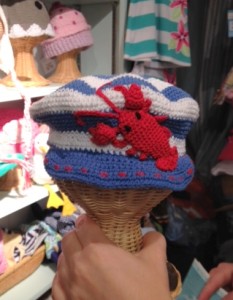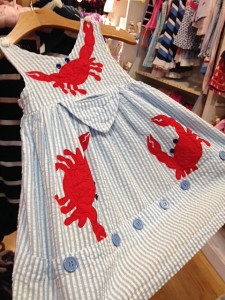 Tons of super-cute kids stuff at The Last Resort. (They have cool stuff for adults too!)
As you can see there were people all along the jetty. The picture doesn't show how treacherous it really is: it's higher than it looks, the rocks are jagged and of varying sizes. Yes, we passed at our own risk too, but just a few steps onto the jetty. We sat and enjoyed the breeze for a few minutes, and then…uh oh…we have to get up! And get back! That's about as You Only Live Once as I get.
Sandy Bay, near the Motif.
Walking past a non-descript house on Bearskin Neck, I noticed that the owner (likely a past one) unleashed their creativity in a very subtle way.
More lovely architecture.
Tuck's Candies…YUM!  They use vintage technology in the salt water taffy-making process!
Ok little guy, I will!
Have you been to Rockport? What are your favorite small-town destinations? Share in the comments, or swing by social media—I'll be posting a few more photos from other, sunnier trips—believe it or not, there is more to see on Facebook, Twitter, Instagram and Pinterest!
SOURCES:
Unless noted all photos are by Christina Branham.
vintagerockport.com – This is a really nice blog about Rockport! Take a few minutes to check it out!
http://newenglandblogger.com/?p=177
http://www.seecapeann.com/see_rockport.html