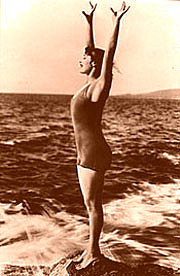 I live about six miles from the Atlantic Ocean. I'm even closer at work, I can see it out the window. How many times have I been to the beach this summer? Zero. Zilch. Nada. Feeling sorry for myself, I decide to live vicariously by investigating the history of beachwear.
The plan was for this to be a timeline of what people wore to go swimming. But in the course of researching the change from women being required to bathe fully clothed to the skimpy suits we wear today, I met one very interesting character… allow me to introduce you to my new hero, Annette Kellerman.  This little known individual influenced women's health and fashion, and even instigated the cultural change that opened the world of sport to women.

MORE THAN JUST A WAY TO KEEP COOL
Australian Annette Kellerman was born in 1887. As a child she suffered from rickets, wearing leg braces until age seven. Her parents were advised to put her in swim class to help heal and strengthen her legs.
By age 15 this determined girl mastered all the strokes, won her first race and began diving—eventually setting the women's dive record of 28 meters. She even raced men…and won! She became so popular she began giving public swimming and diving exhibitions.
Having achieved all the world records for women's swimming by age 18, in 1905 she set her sights on swimming the English Channel. At the time it had only been done once, 30 years prior, by a man; it was unimaginable that a woman would even attempt this feat!
(Unfortunately she did not complete the transit, but she opened the door to the possibility. In 1926 Gertrude Ederle walked through that door, becoming the first woman to swim the Channel.)
FATE STEPS IN
In this same year – 1905 – Kellerman was to perform for the British royal family. As an Australian competitor (her home country was less restrictive regarding swimming attire) she was accustomed to wearing a man's swim suit: a body-hugging, knee length wool unitard. Showing skin below the knee would be offensive to the Royals, so she got creative, sewing a pair of black tights into her suit! Little did she know this act of necessity would be credited as the birth of twentieth century swimwear for women!
By 1907 at 20 years of age, Annette Kellerman was an international star. She was not the first to give aquatic performances, but she was the first to portray swimming and diving as romantic; athleticism in a woman was finally attractive!
That feisty girl who overcame rickets wasn't the type to just sit back and enjoy being a celebrity!
MILLION-DOLLAR MERMAID…WITH A CAUSE
Kellerman used her status to advocate for the health benefits of swimming, and the importance for all women to be able to take part in the sport.
This meant the customary voluminous, wool sink-like-a-rock suits women had to wear must go! And just maybe…women didn't generally need to be covered neck to foot, and bound and corseted in yards of fabric…it was time to liberate the female form!
This Australian made it her mission to challenge the restrictions on women's beach attire in the United States.
Preparing for a promotional "coast swim" in her usual men's swim suit—no skirt, bare below the knee, and tight—she was arrested for indecency at Revere Beach near Boston. The arrest generated world-wide attention!
Annette took this opportunity to champion her cause, convincing the judge that allowing a woman to really swim was a healthy activity rendered impossible by the customary attire.
The judge conceded that she could wear the form-fitting suit in the water, but must wear a robe over it on land!
A THOROUGHLY MODERN WOMAN
Kellerman eventually established her own line of women's swim wear in the fashion of the men's suits she was famous for wearing. She also included a version with a "modesty panel," a short skirt that hit mid-thigh. These suits became known as "Annette Kellermans!"
Swimming became her personal metaphor for women's emancipation.
Kellerman achieved much in her life. Aside from her performing career, she was a business woman. In 1916 she expanded her design portfolio to include comfy everyday attire for women. She promoted healthy, active lifestyles through lectures and writing, and opened health spas and a health food store—in 1923!
Annette Kellerman was clearly a woman before her time; she even proposed marriage to her husband!
I had no idea who she was until I looked into the history of bathing suits. As a 21st century woman, I thank Annette Kellerman for her contributions to the lifestyle I currently enjoy.  And for saving me from drowning in wet wool at the beach. You never know what you will find on your quest for a history fix!
I think this woman is inspirational—what do you say? Who do you find inspiring or interesting? Share, share, share in the comments, or like My History Fix on Facebook! I'll be sharing some more fun historical swimwear tidbits during the week!
SOURCES:
Wells, Kathryn. 2013. Annette Kellerman – The Modern Swimmer for Modern Women. http://australia.gov.au/about-australia/australian-story/annette-kellerman (accessed July 28, 2014).
Wikipedia. 2014. http://en.wikipedia.org/wiki/Swimsuit (accessed July 28, 2014).